By Karly Tinsley | August 1, 2019 at 9:59 PM MST - Updated August 3 at 11:05 AM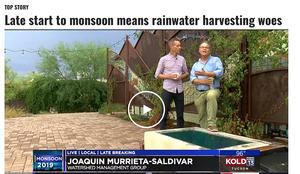 TUCSON, Ariz. (KOLD News 13) - Mother Nature is barely raining on our parade.
With monsoon season behind schedule, many have been left waiting for the water.
"It has been slow we've been anxious same as the plants we've been anxious for the monsoon to really get here." said of Watershed Management Group.
At WMG's Living Lab is a 10 thousand-gallon tank that is barely full but is slowing inching upright after the few inches of rain Wednesday, July 31.
"Prior to this storm this tank was completely dry so now we have probably just over 1,000 gallons captured. We can probably go back on rainwater now." said Catlow Shipek of Watershed Management Group.
Which is good news, so they can stop paying for municipal water and use the rain for irrigation, drinking, even to prevent flooding.
"We're looking at rain as a resource for water and that resource can actually do a lot of things. I mean we're already drinking rainwater but pretty much we're shaping the urban landscape with rainwater." said Murrieta-Saldivar.
Link to full media: