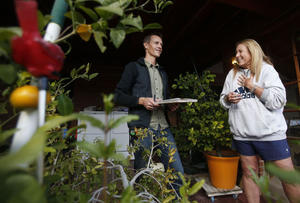 Heavy rain floods the midtown street where Ronni and Roland Kotwica live, causing water to lap close to the front door.
"We get inundated with water," Ronni Kotwica explains. Two years ago they laid sandbags in front of their house and "we actually had water into the sandbags."
She hopes Catlow Shipek can help solve the flooding problem, caused by water running down the street, while giving ideas on what to do with their bare front yard.
Shipek is co-founder and senior program manager at Watershed Management Group (WMG) is a nonprofit organization that organizes and educates people who then create water-harvesting systems at their homes and in their neighborhoods. He leads a team of landscape consultants and designers who help people harvest rainwater.
Link to full media: