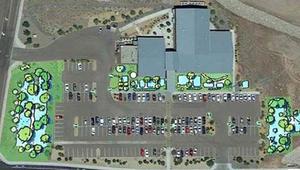 Prescott Creeks & Watershed Management Group will be hosting two upcoming workshops on Rain Gardens and Green Infrastructure.
Saturday, May 17 from 9 am – 3 pm at the (1280 E Rosser St) will be a workshop on Rain Gardens in the Southwest. The workshop will be led by WMG Program Manager and landscape architect James DeRoussel. Participants will receive hands-on education and experience in the design and implementation of passive water harvesting systems, green infrastructure and low-impact development.
On Friday, May 16th, from 12 - 2 pm, join Watershed Management Group and Prescott Creeks at the Prescott Adult Center for a brown-bag lecture series geared at professionals and lay-people interested in learning more about Low Impact Development and Green Infrastructure. This two-hour workshop will consist of an introduction the principles and practices of Green Infrastructure specific to arid environments, a presentation of green infrastructure projects from across Arizona, and a break-out session for group discussions of Green Infrastructure related issues specific to Prescott.
Link to full media: