On the heels of Black Friday and Cyber Monday, #GivingTuesday, Nov. 27, calls attention to online — and real time — opportunities to support nonprofit organizations in the true spirit of the holiday season.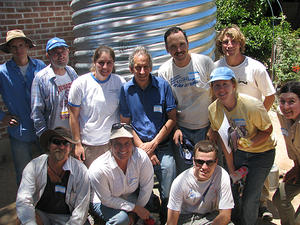 "This is a nice alternative to the consumer culture that invites people to think in terms of giving back to their communities," said Jamie Manser, public relations director for the Watershed Management Group, one of numerous local nonprofits participating in the global day of giving centered around collaboration and social media.
Watershed Management Group seeks to raise $20,000 during the day of giving to aid in its mission of developing community-based solutions to ensure the long-term health and prosperity of the community by providing the public with knowledge, skills and resources for sustainable livelihoods.
The nonprofit will also celebrate the launch of its annual end-of-year fundraising campaign during Rainwater on Tap: A #GivingTuesday Happy Hour, from 5:30 to 8:30 p.m. at the WMG Living Lab and Learning Center, 1137 N. Dodge Blvd. The pre-paid cover charge of $15 includes two drink tickets; $20 at the door. Register online at watershedmg.org/event/rainwater-tap-givingtuesday-happy-hour-0.
"We are also celebrating 10 years of our Green Living Co-op Program, which is really exciting. With the projects we have done over last the decade, people are harvesting 5 million gallons of rainwater annually in Tucson and in the Phoenix Valley. We want to connect with our donors and supporters and celebrate rainwater abundance with cocktails, pizza and live music," Manser said.
Link to full media:
#GivingTuesday important fundraiser for many Tucson nonprofits