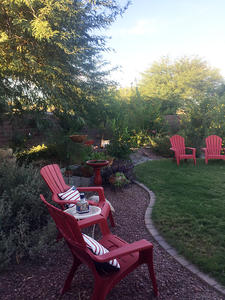 You can check out nearly three dozen gardens and landscapes at two garden tours on Saturday, Oct. 28. Among the stops is a do-it-yourself backyard that embraces desert landscaping. Another shows how a homeowner solved a flooding problem and saved water.
DIVERTED WATER
Paralegal Connie Corder wanted to stop rainwater from flooding her patio and threatening to come through the backyard door.
As it happened, her son was an intern with Watershed Management Group when Corder decided to do something about the structural flaw. He suggested she call the rain-harvesting cooperative for help.
What she ended up with was much more than a fix. She got a garden full of flowering plants and a landscape that uses less city water. Her home is one of the stops at Watershed Management Group's Homescape Harvest Tour.
Link to full media: