Twenty years after their triumphant return, beavers have nearly vanished once again from the San Pedro River.
No beaver dams have been recorded within the San Pedro Riparian National Conservation Area for the past three years, and only a few individual animals have been spotted along the river 85 miles southeast of Tucson.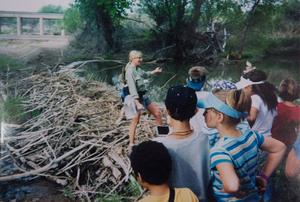 Experts fear the remaining population is now too small to sustain itself.
"They've practically winked out," said longtime river resident Sandy Anderson, who runs an educational nature center on the San Pedro.
The sudden decline remains a mystery to the two agencies responsible for reintroducing beavers to the river.
Officials from the Bureau of Land Management and the Arizona Game and Fish Department said they simply don't know why the animals are disappearing or how many of them might be left, because they long ago stopped monitoring the population.
"There are beaver down there. We don't know how many, but there has been a decline," said Scott Feldhausen, local district manager for the BLM.
...
MORE AND MORE BEAVER BELIEVERS EVERY DAY
Beavers haven't gotten this much national attention since they were still being made into top hats in the 19th century.
A growing number of ecologists and environmentalists now celebrate the animal for its role as a keystone species and a restoration specialist for damaged landscapes. Simply by doing what comes naturally to them, these furry engineers improve the overall health of watersheds and create new habitat for a host of other species, beaver backers say.
The beaver's contributions to nature were chronicled last year in Ben Goldfarb's award-winning book, "Eager: The Surprising, Secret Life of Beavers and Why They Matter."
Now the animals and their advocates are the subject of a documentary called "The Beaver Believers," which premiered in Tucson late last month at a fundraiser for the Watershed Management Group.
About 250 people turned out for the Sept. 27 screening. The beaver-themed event raised roughly $15,000 for the conservation group's riparian restoration work in and around Tucson.
Watershed Management Group Executive Director Lisa Shipek said she didn't know anything about the plight of the beavers on the San Pedro until someone mentioned it during a panel discussion before the movie was shown.
"It was surprising for sure," Shipek said. "There have been positive impacts from (the beaver's) reintroduction … but I think we're still learning. That's why we need to keep tabs on how they're doing in the watershed."
Link to full media:
Dam shame: Beavers face second extinction on San Pedro River
Program