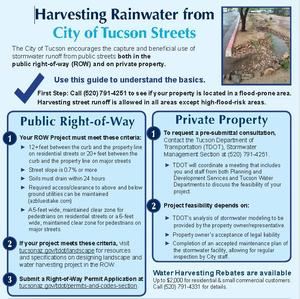 The City of Tucson is considering something that at one time could only be done on public areas, taking water that's running down the street and using it for the landscape of a home.

It was on the city council study session on Tuesday, Jan. 9. Council members talked about the issue with Tucson Water. There were a couple of things that they wanted to change before moving forward.
Those issues include having Tucson Water simplify the flyer on harvesting storm water, reaching out to the Spanish speaking community, adding more incentives for the program and reaching out to lower income families.
Once those things have been fixed, the council will meet again in April to discuss the program.
Stormwater harvesting would allow homeowners to setup a way to bring water to personal plants and shrubs.

Currently homeowners can do rainwater harvesting from their roof into a water cistern. In some cases homeowners can get a rebate from Tucson Water, for some systems it's $500 and other systems are $2,000.

There are some concerns about collecting the stormwater.
The folks at the Watershed Management Group told Tucson News Now that houses are graded to keep water from coming up to the home and changing the grade could flood that one home or maybe a neighbor's.

So it's important that the grading is done correctly.
Link to full media: