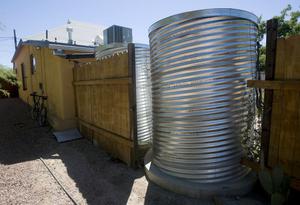 Fruits and vegetables for Lupe Carrizosa's meals are just-picked fresh.
Gail Ryser needs little municipal water to irrigate her landscape.
Both central-area Barrio Anita residents took advantage of cooperative programs to shape their gardens and landscapes.
In each program, participants donate time working on someone else's project in exchange for cooperative members helping them.
Carrizosa, who cannot work because of a disability, qualified to join the Community Food Bank Gardening Co-operative for low-income households. After she met the requirements of attending three food-bank gardening classes and helping dig a plot for another family, a group formed her garden in December. (...)
Then she found the Watershed Management Group (WMG) Co-op. Co-op members attend free hands-on workshops during which they create earthworks, water-collection and -directing systems, and gardens, among other projects, on site.
Link to full media: