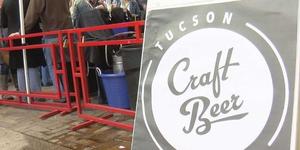 TUCSON, AZ (KOLD News 13) - Saturday marked the 5th annual Tucson Craft Beer Crawl downtown.
The completely sold out event is more than just a beer crawl that boosts nine local breweries. A portion of the proceeds from ticket sales will be poured back into local non-profits here in Southern Arizona.
Laura Reese, founder of the Tucson Craft Beer Crawl, said giving back was always a part of the plan when she started the event back in 2014.
"We created this event and then we decided we wanted to figure out what non profit would be a great one to align with."
Since it's start, nearly $35,000 has been donated to Watershed Management Group, a non-profit that works to promote water conservation, restore flow to our desert rivers, create healthy urban watersheds, and promote green, walk-able neighborhoods. WMG creates enduring change through community education programs, on-the-ground demonstrations, working with people to harvest rainwater, and on governmental policy work.
Which in turn, plays a big role in the local craft beer scene.
"If we want to responsibly grow our craft brewing community, we also need to responsibly grow our water supply. Which is how we got connected and wanted to support Water Management Group through the event." said Reese.
Link to full media:
Beer Gives Back: Beer crawl raises money for non-profits in Pima County