CSA PICK UPS ARE ON HOLD FOR THE DURATION OF COVID-19.
You're invited to join us in supporting local farmers through a partnership with Tucson CSA and Sleeping Frog Farms.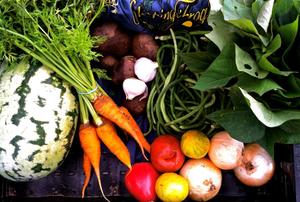 WMG + Tucson CSA + Sleeping Frog Farm = Fantastic farm produce available to you in central Tucson! By joining Tucson CSA, you will receive a share of fresh fruits & vegetables each week from Sleeping Frog Farms. You are also able to order fresh bread from Barrio Bread, Goat Cheese from Black Mesa Ranch, and fresh sprouts. 
Community Supported Agriculture (CSA) Quick Facts:
Share cost: $132 for 6 weeks, or $264 for 12 weeks
Weekly share size: 7 items
Pick up: Wednesdays, 4–7 p.m., at WMG's Living Lab & Learning Center
Subscribe: Online at Tucson CSA website and choose the Watershed Management Group location: 1137 N Dodge Blvd, 85716. You may subscribe for 6 weeks, or 12 weeks. Subscriptions are on a rolling basis, and you must sign up by the DEADLINE of the Friday BEFORE your first desired pickup. Tucson CSA shares may be put on hold with a deadline of the Friday BEFORE your next pick-up. Please see the Tucson CSA website for full information on subscribing, the different products available, and how to manage your account.
For more information about our vendors:
Interested in volunteering in exchange for a free share?? Volunteers staff the CSA pick-up at the Living Lab on Wednesday evenings from 3:45 p.m. to 7:15 p.m. In return, volunteers receive a free share of produce. Volunteer duties include welcoming and checking in the members, checking for add-on items (sprouts, goat cheese, and Barrio Bread), and keeping the veggies restocked as needed. Volunteers who are already familiar with cooking and using fresh produce (especially during greens season), and being able to give tips for their use and storage, are a plus! We are also always looking for volunteer musicians who would be interested in playing during pickup to create a lovely atmosphere! If interested, please contact info@watershedmg.org.