The next Valley Docent program begins Spring 2019, applications will open Fall 2018 - stay tuned!
What is a WMG Valley Docent?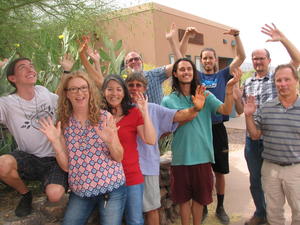 Valley Docents are ambassadors of Watershed Management Group out in the community. They fill a variety of roles throughout the organization that support our mission to develop community-based solutions to ensure the long-term prosperity of people and health of the environment. If you are passionate about restoring our rivers, advocating for water security in the Southwest, and educating the public on how they can conserve our precious water resources, consider being a WMG Valley Docent! Read below for testimonials from docents on their experiences.
Duties & Responsibilities 
At the end of the docent training program, we work with each docent to find regular volunteer activities that fit their skill set and interests. These activities can include, but are not limited to: giving tours of our public demonstration sites, tabling at outreach events, rain garden care, administrative tasks, and assisting with fundraising campaigns. 
Qualifications 
We are seeking individuals with a shared passion in our mission - experience in the water conservation field is not necessary! Being a WMG docent is generally not conducive for people who work more than part-time or have other responsibilities that equate to full-time.  
Benefits
This program provides the opportunity to build skills and knowledge in different areas such as rain garden care, citizen science, public outreach, water harvesting and more. It is also an opportunity to contribute skills you may already have honed through your life's work and can now apply to the grassroots efforts of our organization.  Lastly, it is an opportunity to become a member of our vibrant team here at Watershed Management Group!
Requirements
Attend all Spring 2019 training sessions, 3 hours per week (dates TBD). The 30-hour training also includes occasional assistance at outreach and WMG events on the weekends. You can expect both classroom instruction as well as field excursions taught by WMG staff and local partners. You will need to have a base level of physical fitness to be able to participate in outdoor activities (walking tours, hands-on workshops, etc.).
One year commitment from the completion of your training - 10hrs/month or 120hrs/year. Upon completion of your training, docents are asked to commit to one year of service for a minimum of 10 hours per month. 
Attend monthly Valley Docent meeting. Monthly meetings are typically held on the third Thursday of each month in the evening.
Assist with at least two WMG events a year. WMG hosts a variety of events throughout the year and we need your help!
Pay $75 program fee.
 
How do I apply? 
Apply Online to Become a WMG Valley Docent
Questions?
If you have questions about the program, please connect with Ryan Wood at rwood@watershedmg.org or 602-618-6650
---
Valley Docent Testimonials
"I am a Valley Docent because the mission of WMG is important to water and our future. Green infrastructure has a place in Phoenix and surrounding cities! Through WMG I've come to appreciate and understand the use of curb cuts to gather runoff from city and neighborhood streets to water landscapes. The best part of being a docent is sharing knowledge and information with others and encouraging them to conserve water and use it wisely." -Willie Sommers
"I am a WMG Docent because I want to help educate people in the Valley about permaculture design and techniques for water conservation. I enjoy talking to people and sharing ideas on how to build community through projects based on water conservation. I continue to grow and learn about water use and conservation by observing my own rain garden. I share what I have learned with others in my neighborhood and community." -Michele Smith
"I am a Docent because I understand the dire need for raising water awareness in the desert. WMG has a great platform for education and focused action. Through this training, my awareness and ability to verbalize the urgency of rainwater harvesting has been activated. The most fulfilling aspect of being a Docent is showing people that there are simple solutions to live a more regenerative lifestyle." -Michael Gettens
"I joined the Valley Docent program to enrich my knowledge of our valley's watershed and enhance existing & build new skills to ultimately pay it forward to family, friends & communities. I have a passion to create and love to teach. I look forward to building new relationships thru the docent program, co-op workshops and classes." -Patty Cockrill
---
Meet our Valley Docents!
Patty Cockrill


Patty Cockrill, aka PFiddy, was born in Wisconsin, grew up in Illinois and has called Arizona home since 1982 when she transferred to DeVry Phoenix to complete her education.  Once starting a family and being blessed to be a stay at home Mom she became actively involved in community based volunteer opportunities in Apache Junction. After years of sharing her creative passion with children & families she found employment with AJ Parks & Recreation to be the perfect transition to continue working with families within the community as a Recreation Leader and Special Interest Instructor.  Since taking a hiatus from work to care for aging family members she has found new & exciting volunteer opportunities with WMG. While not out promoting WMG, Patty loves rusty metal, hiking, kayaking, rock hounding, beading and creating "trash to treasure" projects.
 

Michael Gettens
Michael is a Permaculture student inspired by the diversity of plant and animal life inhabiting the Sonoran Desert. Following a path of cooking, gardening and now rainwater harvesting, he looks to share his experience with others through teaching while embodying a regenerative lifestyle.
 

Aaron Levy
Aaron is an aspiring Ecological Landscaper who grew up in the Phoenix area. He studied Urban Horticulture at Mesa Community College and went on to become a Certified Permaculture Designer at Aprovecho Sustainability Education Center in Oregon where he studied Eco-Forestry and Watershed Management. Upon his return to Arizona, he received a Water Harvesting Practitioner Certification from WMG and is now a Valley Docent assisting with Co-op Workshops and focusing on community outreach and education within Phoenix. Aaron enjoys a healthy lifestyle and can often be found outside exploring the natural environment. His passions include the healing arts, fitness, mycology and southwestern ecology. As a student of life, he is constantly expanding his horizons and strives to be a positive force in the world.




Hope Manross
Hope is nearly a native Arizonan having moved to Tucson at the age of 6 and eventually finding her way north to the Valley of the Sun where she graduated from Arizona State University..  She spent her career in training and development facilitating learning among adults in a wide variety of group settings. Hope served as a Desert Botanical Garden Docent for 7 years and in 2016 became a certified Master Gardener with the Cooperative Extension of Maricopa County.  She is an active member of the Watershed Management's Green Living Coop.and in her spare time teaches vegetable gardening classes for the Chandler Environmental Education Center. She is currently enrolled in the Desert Botanical Garden Desert Landscape School and plans to earn her full credential in early 2019.. She is currently taking an online Permaculture course.  Hope is passionate about learning and sharing, interacting with and conserving the natural world. She loves walking her two pit bull dogs at Boyce Thompson Arboretum.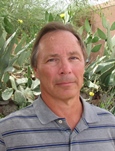 Wayne Pudney
Wayne lives in the central Phoenix area. He likes to keep busy. Wayne is beginning to explore and experience the many interesting topics directly related to Watershed Management Group's mission.

Jeanne Santillan
Jeanne landed in Arizona in 2004 after calling California home for 26 years beginning as a young Marine Corps writer at Camp Pendleton, CA. She discovered volunteering was another way to serve and learn about a variety of interests. Among those interests were conservation/self-sufficiency, real food/health, social justice and just giving back to others. After her youngest offspring graduated in 2014, a sustainable food systems class assignment led Jeanne to WMG and later a tour of the Living Lab. She envisions her own diverse chickens, an equally diverse garden, good food jobs, all while working through "rock block" on WMG projects.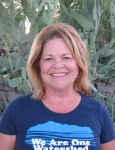 Michele Smith
Michele was born in Detroit, Michigan and grew up in central Michigan.  She is the oldest of seven girls and learned to grow vegetables, cook and can food as a child.  As a teenager, Michele worked on a farm in the summer and enjoyed working outdoors. She went to Central Michigan University and received a degree in Elementary Education.  Michele moved to Arizona in 1979 and has always lived in Phoenix. She has a Masters in Education from ASU and a Masters in Library Science from the University of Arizona. In 2004, Michele went through the Master Gardener program through the University of Arizona and in 2013 received certification in Permaculture Design. Michele has volunteered in several water to landscape workshops with Watershed Management Group before becoming a docent. Several years ago she hosted a water harvesting workshop on her property in Phoenix.
 

Willie Sommers
Willie is a native of Phoenix who grew up on 5 acres in the nearby community of Laveen.  He has a BS in Environmental Resources from Arizona State University and a Master's degree in Rangeland Management from The University of Arizona.  He has worked for the State of Arizona since 2005, formerly with the Arizona State Land Department and now with the Arizona Department of Forestry & Fire Management.  His professional focus has been on natural resource management of rangelands, forests and riparian areas of central and southern Arizona. In addition to working in the wildlands of Arizona, he enjoys gardening, landscaping projects, hiking and road trips in his Volkswagen Vanagon.