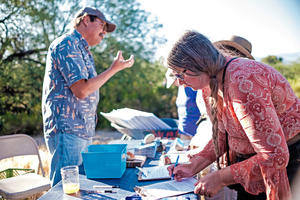 Watershed Management Group (WMG) is a Tucson-based nonprofit organization that develops and implements community-based solutions to ensure the long-term prosperity of people and health of the environment. We are currently seeking committed individuals to join our board of directors, board committees, or other volunteer opportunities with a passion to serve the community and work with a dynamic, solutions-focused group. In the next few years, volunteers will support a variety of WMG's initiatives including:
Developing a 50-year strategic plan and long-term funding to restore Tucson's heritage of flowing rivers through the River Run Network;
Expanding WMG's programs and services to better engage limited income and underserved populations; and
Launching a capital campaign to fund the final phase of development at the Living Lab and Learning Center, including building a new classroom.
The board and committees help develop the strategic goals of the organization, ensure adequate staff and financial resources, and help monitor the overall health of the organization. WMG is committed to building a diverse and inclusive board and committees that foster proactive dialogue, collaborative learning, and shared leadership.
Board Membership: WMG board members are expected to attend monthly board meetings, serve actively on at least one committee of the organization, support the organization financially and/or through attendance at outreach and fundraising events, and to assist the organization in achieving its goals and mission. WMG board members serve a two-year term of service and are eligible for additional terms. 
Committee Membership: In addition to board service, we are also looking for members to join our Development, Finance, and Latinx Engagement committees. Committee membership offers volunteers an introduction to the leadership of the organization and support the achievement of the mission with a lesser time commitment. Committees typically meet 1 hour/month and will work on projects independently between meetings.
Other Volunteer Opportunities: You can support WMG's efforts through a variety of other volunteer opportunities, including our Docent program, and Flow365 community science monitoring program.