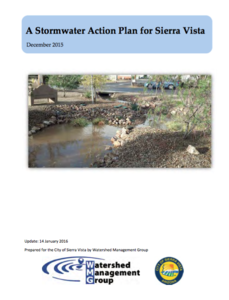 A Stormwater Action Plan for Sierra Vista
The Sierra Vista sub‐watershed drains to the San Pedro Riparian National Conservation Area (SPRNCA) and the City and region are currently withdrawing more water than is naturally replenished each year. This water deficit can be reduced through a holistic view of stormwater management within the subwatershed. Although this Stormwater Action Plan is specifically focused on the City of Sierra Vista it can serve as a guide for further adoption of Low Impact Development (LID) and green infrastructure practices throughout the Sierra Vista subwatershed. Managing stormwater as a beneficial resource from the individual site to the San Pedro is a promising shift in stormwater management.
This action plan presents concrete steps for Sierra Vista to balance site‐based uses of stormwater through LID features as well as geomorphic restoration of urban channels to enhance recharge and preserve base flow in the San Pedro River. This report identifies individual projects and policies that can close the water deficit and improve the long‐term health of the San Pedro River, the aquifer and the community.