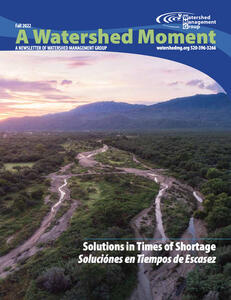 2022 Fall WMG Newsletter
Solutions in Times of Shortage
Is it time to pack our bags and leave Tucson?
Many people in Tucson and other communities across the West are asking this question, or similar ones. In essence: Is there enough water where I live to sustain the human population?
I asked that question myself when I first came to Tucson for graduate school. To me, it was obvious that there wasn't enough water to sustain all the people living in the desert, so I planned to move to a wetter part of the country after graduate school.
But during those years, I learned about traditional practices like water harvesting and native edible plants, and I fell in love with the Sonoran Desert. I also learned that Tucson is the oldest continuously inhabited and cultivated area in the U.S., with an archaeological record of habitation and crop cultivation extending back more than 4,000 years.
My perspective started to shift, and I realized I could stay and be part of the solution. My husband and I settled in Tucson committed to growing our fledging non-profit, Watershed Management Group, and spreading what we now call hydro-local solutions: those that make the most of local, self-replenishing water resources like rainwater, stormwater, and greywater, instead of sucking distant watersheds like the Colorado River dry. In March 2023, we'll be celebrating 20 years of fostering hydro-local solutions and working towards a vision to restore Tucson's heritage of flowing rivers.
So in this moment, I'm not asking myself when to pack my bags. Instead, I'm asking my community: How do we, collectively, respond to the Colorado River shortage? How do we, as a community, shift from being water consumers to water stewards, restoring a reciprocal relationship with our watershed? How do we scale up hydro-local solutions to create a resilient, water secure future in Tucson and across the West?
That's where you come in, to grow this movement to a critical tipping point.
We have proven that hydro-local solutions work. Now we need to amplify those solutions by sharing them more widely and embedding them into our local policies and everyday practices. Even in times of shortage, there are tangible solutions at hand, and we at WMG are here to partner with you to make hydro-local programs and policies more relevant, affordable, and inclusive. vWater in the Western U.S. is not a bucket that we empty until it's dry, though we've been treating it that way. Water in the West, like everywhere else in the world, is a precious and life-giving resource, constantly renewed through nature's water cycle.
The solutions WMG has focused on — from water harvesting at home, to green stormwater infrastructure in neighborhoods, to restoring groundwater and river floodplains — are the solutions we need to scale up right now to meet this moment and reconnect to our local, self-replenishing water cycle. Our journey is just beginning. Thank you for believing in this work and creating a hydro-local future together.