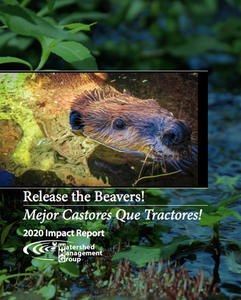 2020 WMG Impact Report
Campaign Expands to Promote Beaver in the Santa Cruz and San Pedro International Watersheds
Beavers are so critical for our desert rivers that we're expanding our Release the Beavers campaign to include both the Santa Cruz and San Pedro international rivers, which ow through the U.S., Mexico, and tribal nations. We acknowledge the watersheds are part of the ancestral lands of the Hohokam, Sobaipuri, and Apache people, and those of the Pascua Yaqui and Tohono O'odham people whose relationship with this land continues to this day. rough this campaign, we strive to recognize traditional ecological knowledge and historical accounts of beavers in the Southwest.
Release the Beavers Campaign Goals:
Advocating for beaver introduction and additional releases of beavers. We're still advocating for beavers in Ciénega Creek, but we also support additional beaver releases along the San Pedro River. Wherever there are perennial ows and deeper pools, we want to see beavers. e BLM estimates a capacity of three beaver per dam per mile of the SPRNCA, so there is the potential capacity to have up to 120 beaver in the 40 mile stretch of the San Pedro River, working for watershed health!
Monitoring the health and distribution of beaver populations by coordinating an annual binational population survey. rough our December beaver survey, we estimate 12 to 15 beavers are living along the river in the San Pedro Riparian National Conservation Area (SPRNCA), but we need 50 beaver to maintain a stable population. We're also gathering accounts of beavers migrating to the Mexican side of the watershed and neighboring watersheds. We'll be planning more annual surveys, and next year we'll coordinating a binational survey with our partners in Mexico.
Restoring our creeks and rivers—slowing ows, spreading water across the oodplain, and recharging aquifers— and ensuring beavers can do the same! WMG sta are working on-the-ground with partners and landowners in the U.S. and Mexico to restore our creeks and rivers. Restoration Director Trevor Hare is leading restoration projects in Empire Gulch, a tributary to Ciénega Creek, with volunteers building rock structures to slow the flow, reduce erosion, and spread water across the oodplain. Cultural Ecologist Joaquin Murrieta is working on the Mexico side of the watershed with ranchers and partner Profauna to move cattle out of riparian areas and restore eroded lands and arroyos.
Visit Watershedmg.org/Beavers to join our campaign and pledge to support beavers in our desert rivers.