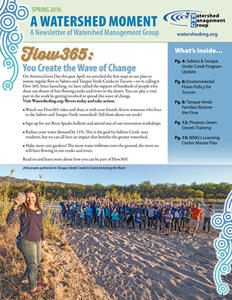 2016 Spring WMG Newsletter
Flow 365:
You Create the Wave of Change
On Arizona Gives Day this past April, we unveiled the first steps in our plan to restore regular ow to Sabino and Tanque Verde Creeks in Tucson—we're calling it Flow 365. Since launching, we have rallied the support of hundreds of people who share our dream of free-flowing creeks and rivers in the desert. You can play a vital part in the work by getting involved to spread this wave of change. Visit watershedmg.org/rivers today and take action.
Watch our Flow365 video and share it with your friends. Know someone who lives in the Sabino and Tanque Verde watershed? Tell them about our work!
Sign up for our River Speaks bulletin and attend one of our restoration workshops.
Reduce your water demand by 11%. is is the goal for Sabino Creek–area residents, but we can all have an impact that bene ts the greater watershed.
Make more rain gardens! e more water in infiltrates into the ground, the more we will have owing in our creeks and rivers.
Read on and learn more about how you can be part of Flow365!