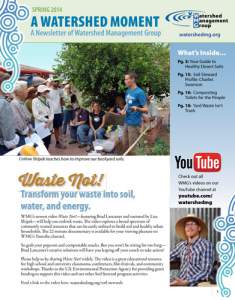 2014 Spring WMG Newsletter
Waste Not! Transform your waste into soil, water, and energy
WMG's newest video Waste Not!—featuring Brad Lancaster and narrated by Lisa Shipek—will help you rethink waste. The video explores a broad spectrum of commonly wasted resources that can be easily utilized to build soil and healthy urban households. The 22-minute documentary is available for your viewing pleasure on WMG's Youtube channel.
So grab your popcorn and compostable snacks. But you won't be sitting for too long—Brad Lancaster's creative solutions will have you leaping off your couch to take action!
Please help us by sharing Waste Not! widely. The video is a great educational resource for high school and university classrooms, conferences, film festivals, and community workshops. Thanks to the U.S. Environmental Protection Agency for providing grant funding to support this video and our other Soil Steward program activities.