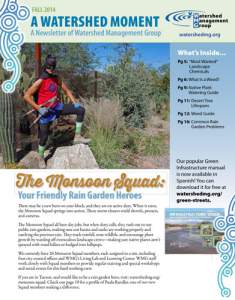 2014 Fall WMG Newsletter
The Monsoon Squad: Your Friendly Rain Garden Heroes
There may be a new hero on your block, and they are on active duty. When it rains, the Monsoon Squad springs into action. These storm chasers wield shovels, pruners, and cameras.
The Monsoon Squad all have day jobs, but when duty calls, they rush out to our public rain gardens, making sure our basins and tanks are working properly and catching the precious rain. They track rainfall, note wildlife, and encourage plant growth by warding off overzealous landscape crews—making sure native plants aren't sprayed with weed killers or hedged into lollipops.
We currently have 26 Monsoon Squad members, each assigned to a site, including four city council offices and WMG's Living Lab and Learning Center. WMG staff work closely with Squad members to provide regular training and special workshops and social events for this hard working crew.