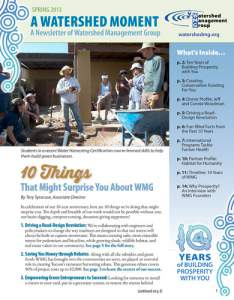 2013 Spring WMG Newsletter
10 Things That Might Surprise You About WMG
In celebration of our 10-year anniversary, here are 10 things we're doing that might surprise you. The depth and breadth of our work would not be possible without you: our basin-digging, compost-turning, donation-giving supporters!
Driving a Road-Design Revolution: We're collaborating with engineers and policymakers to change the way roadways are designed so that our streets will always be built to capture stormwater. This means creating safer, more enjoyable streets for pedestrians and bicyclists, while growing shade, wildlife habitat, and real estate values in our community. See page 5 for the full story.
Saving You Money through Rebates: Along with all the subsidies and grant funds WMG has brought into the communities we serve, we played an essential role in creating Tucson's rainwater harvesting rebate. This generous rebate covers 50% of project costs up to $2,000. See page 3 to learn the secrets of our success.
Empowering Green Entrepreneurs to Succeed: Looking for someone to install a cistern in your yard, put in a greywater system, or restore the stream behind
Promoting Farm to Table: Up-and-coming chef Rani Olson has spent the last year whipping up amazing meals for our trainings and events through WMG's Chef-in-Residence program. The program is a tangible (and delicious!) way to put our money where our mouths are. By purchasing food directly from local farmers and producers, we are supporting responsible land stewardship, a reduction in energy to transport food, and boosting the local economy.
Transforming Poop into a Soil Resource Around the World: Human waste has long been used as a soil resource. But with modern sanitation, we've lost our connection to the natural cycle that turns our "waste" into soil nutrients. So we're working from Arizona to Africa to restore that connection and transform poop into "humanure" that can amend soil to grow fruit and native trees. Composting toilets installed in Tucson allow our "Soil Stewards" to stop using clean drinking water to dispose of urine and excrement. And our international programs help people with limited (or no) access to sanitation to build and use culturally appropriate composting toilets to protect their health and environment. Learn to build your own composting toilet at watershedmg.org/soil-stewards.
Breaking the Language Barrier: Until recently, Spanish speakers had very few water harvesting resources to choose from. So few, that when we translated our Water Harvesting Certification manual into Spanish, we had to devise words like vasos de captación (basins) and bermas (berms), and create an English to Spanish water harvesting glossary. We held our first Spanish language course in November 2011.
Banishing Gravel and Building Rain Gardens: Landscapes covered with gravel and some lonesome cacti have become common in the West in an attempt to conserve water. Unfortunately, these landscapes do nothing to promote healthy watersheds. But dig a shallow basin and add some organic mulch and mix of native plants, and what do you get? A lush landscape that captures the rain, saves water and returns nature to our cities. Through education and policy work we're changing the way people see and build their landscapes, shifting from water-starved gravel-scapes to densely planted, gorgeous rainscapes. If you're ready to build your own rain garden, our Green Living Co-op can help: watershedmg.org/co-op.
Building Coalitions to Renew Our Rivers: We've joined forces with more than a dozen organizations in Tucson to form the Community Water Coalition. The Coalition is working to build a groundswell of support for local water policy that can sustain healthy ecosystems. This includes everyday actions like writing letters and meeting with policy makers. We're also looking at the big picture by crafting campaigns to restore flowing water and habitat to our desert rivers. Want to learn how you can join the movement? Visit communitywatercoalition.org.
Increasing Health to Help Subsistence Farmers: If you're a subsistence farmer in rural India or Africa, every working hour counts. That's why much of WMG's work in these parts of the world is focused on ensuring the health of farmers and their families. Having basics like clean water and more efficient cookstoves along with promoting behavior change through hand washing goes a long way to ensure family members can be working or at school instead of sick at home. See page 7 for the full story.
Finding New Funds for Greening Neighborhoods: Green infrastructure is growing block-by-block in Tucson and in cities throughout the US. And now, thanks to WMG's Conserve to Enhance program, when you check the box on your Tucson Water bill to contribute to riparian restoration, your contribution will go back to the community to fund green infrastructure and urban river and wash restoration projects.