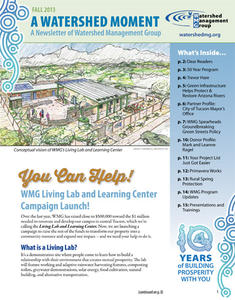 2013 Fall WMG Newsletter
You Can Help!
WMG Living Lab and Learning Center Campaign Launch!
Over the last year, WMG has raised close to $500,000 toward the $1 million
needed to renovate and develop our campus in central Tucson, which we're
calling the Living Lab and Learning Center. Now, we are launching a
campaign to raise the rest of the funds to transform our property into a
community resource and expand our impact – and we need your help to do it.
What is a Living Lab?
It's a demonstration site where people come to learn how to build a
relationship with their environment that creates mutual prosperity. The lab
will feature working and adaptive rainwater harvesting features, composting
toilets, greywater demonstrations, solar energy, food cultivation, natural
building, and alternative transportation.