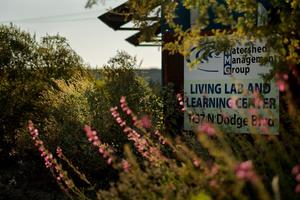 Thank for your interest in our self-guided, contact-free audio tours!
We are offering audio tours of the Living Lab and Learning Center. Book a one-hour time slot for you and your family (max group size: 5 people), and you can walk our grounds, learn about green infrastructure, and say "Hi" to the chickens, all while safely social distancing! 
Health and safety guidelines 
Please bring your own water bottle
Please bring your own mask
The entire tour will be outside; there will be some shaded areas, but we recommend bringing a shade hat 
How to make an appointment:
Pick a one hour time slot from the calendar below
Fill out the Audio Tour Request Form
We will respond to your submission to confirm your appointment, reserve your time, and send details on how to complete the self-guided tour

If you have any questions, send an email to our River Run Network Program Coordinator, Lauren Monheim, at lmonheim@watershedmg.org.
* You can use your smart phone to access our audio tour recordings. More information will be sent to you upon registration!