Kit-based Barrel Composting Toilet Build 1-Day Workshop - April 18, 2015
Come learn all about the humanure process and benefits and then build your own system to take home and use.
Designed, tested, and refined over the years by David Omick, a local southern Arizona expert, the barrel composting tiolet system is practical and cost effective. This toilet design features a series of 55-gallon high-density polyethylene barrels as the collection and composting container. A customized plywood panel top serves as a removable seat, vent, and light trap platform. To compliment the barrel composting toilet design David Omick applied his ingenuity to develop a low-cost, practical approach to urine diversion to provide additional nutrients to plants. Visit www.watershedmg.org/soil-stewards or www.omick.net/composting_toilets/barrel_toilet.htm for detailed information.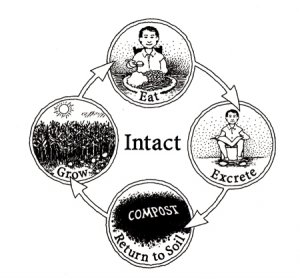 Please note the following:
The suggested number of 55-gallon barrels = # regular users + 1. For example two regular users should have 3 barrels. The minimum is one user with two barrels. Each barrel requires a 2ft by 2ft space + access. Please let us know how many barrels you will need.
Will your system be outdoors or indoors? If outdoors we strongly recommend providing a shelter that will protect the barrel top from rain and sun.
Bring a map of your property showing desired placement of toilet and nearby plantings to ensure best placement.
Please note that these systems are currently not listed on Arizona Department of Environmental Quality (ADEQ) approved composting toilet list, which means you will not be able to permit your system for use. WMG has submitted the barrel kit system for review to be listed. If approved, a typical permit may cost from $500 – $1000 with either Pima County Department of Environmental Quality (PDEQ) or Arizona Department of Environmental Quality (ADEQ).
WMG will provide through this 1-day workshop the following:
A resource packet that includes: a maintenance log, cleaning kit suggestions, and troubleshooting tips
A resource sheet with suppliers, use and maintenance, and weblinks
A 2-barrel system with urine diversion and aeration crank. Additional barrels can be purchased for $50 each.
When
Apr 18, 2015 - 09:00 am through 4:00 pm
Location
1137 N Dodge Blvd




Tucson

,

AZ

85716-Tucson




United States
Workshop Fees
| | |
| --- | --- |
| Kit-based Barrel Composting Toilet | |
| 2 barrel system - full cost | $ 755.00 |
| 3 barrel system - full cost | $ 815.00 |
| 4 barrel system - full cost | $ 875.00 |
| Pay deposit only | $ 100.00 |