Community Workshop & Creek Walks for University of Arizona students, faculty, and staff!
Tuesday, Dec 10th: Old Main @ 9:30am-2pm, WMG & Coca-Cola Community Workshop
Join the Hydrocats, Watershed Management Group and the UA Office of Sustainability to enhance the water harvesting features at Old Main. You'll get your hands dirty learning how green infrastructure can reduce outdoor water-use and supports landscaping that provides shade, can mitigate the urban heat island and supports thriving native habitat. Physical work includes identifying critical elevations, placing rock, building erosion control structures, and improving drainage.
---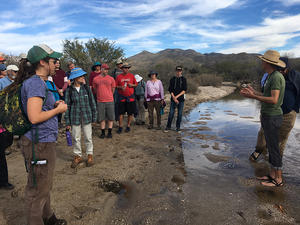 Watershed Management Group (WMG) invites you to discover Tucson's riparian gems, explore the great outdoors, get connected to the larger Tucson watershed, learn about WMG's River Run Network movement, and how you and your fellow Wildcats can join us to help restore groundwater levels and flow to our rivers. All events are free thanks to a sponsorship by Coca-Cola! Please register by clicking the links on the event titles, and we will email you directions on where to meet.  
Sponsored by: