So much of the Santa Cruz River Watershed has changed. However, we rarely hear stories of what the creeks and rivers looked like as they were changing, or how the community experienced these changes. 
In response to this recognition, with an eye to renewing community pride in our heritage of flowing creeks and rivers, the River Run Network is launching a storytelling and story collection project titled Our Memories of Flowing Rivers.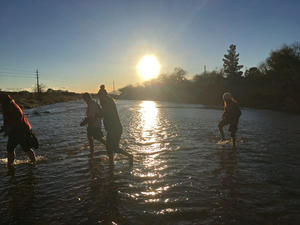 In our watershed, there are voids in the story about the community's connection to the Santa Cruz River and its tributaries as they responded to the decline of groundwater from the early to mid-1900s. While the decline of groundwater is part of our current recognition, the experiences of community members during this immense change is not centered in the written record. These stories would expand our collective memory and current relationships with the Santa Cruz River and its tributaries. We hope that by sharing these stories, we will create new traditions of passing down stories from generation to generation in our community.
---
While we would love to hear your stories about when the rivers flowed out loud and in-person, we are instead encouraging you submit your stories online here. Please share your story about the Santa Cruz River, Rillito River, or any of their tributaries including Cienega Creek, Sabino Creek, Tanque Verde Creek, Canada del Oro, and Pantano Creek. 
In this form, we invite you to tell us about yourself, your memories of our creeks and rivers, and share photos or art related to you and your story. You are welcome to share drawings, paintings, poetry, and other art forms through the photo upload section in the survey. You can choose whether to share your name with your story or remain anonymous. There will be future opportunities to share your story through WMG's community efforts, both virtually and in print form. We would love to hear your stories and share them with the River Run Network (RRN). (Learn more about the RRN and to join!) This will be our first round of collecting stories in this manner.
In consideration of physical distancing during this difficult time, along with our acknowledgement that technology issues continue to pose accessibility options to many community members, we are eager to coordinate space for youth (and others!) to be story recorders. If someone in your family, your neighborhood, or other community spaces has a story about when the rivers flowed more and you feel comfortable interacting with them, we encourage you to collect their story using the form. This can be done over the phone, over a video call, in-person if you are sheltering in place together, or from a comfortable and safe physical distance.
Thank you for sharing your stories and helping us build our memories of flowing rivers. Below is background about the Santa Cruz River's history and the storytelling project.
The ever-changing Santa Cruz River
For thousands of years, the Santa Cruz River and its tributaries, including the Rillito and Pantano Rivers, as well as the Tanque Verde, Sabino, and Cienega Creeks, had stretches of year-round and seasonal flows which supported communities of Indigenous peoples, extensive wetlands, and a huge diversity of plant and animal life.
From early to mid-1900s, these creeks and rivers dried up due to extensive groundwater pumping. Among the pressures on groundwater were growing population and associated urban development, mining, and agriculture. [1] Today, most of these creeks and rivers flow only after heavy rains, with just a few patches of perennial stretches. In our Fall 2019 newsletter, we illustrated where rivers and creeks are flowing year-round, seasonally, and only after rainstorms.
[1] Glennon, R. (2002). How Does a River Go Dry? The Santa Cruz in Tucson. In Water Follies: Groundwater Pumping and the Fate of America's Fresh Waters (pp. 35–50). Island Press.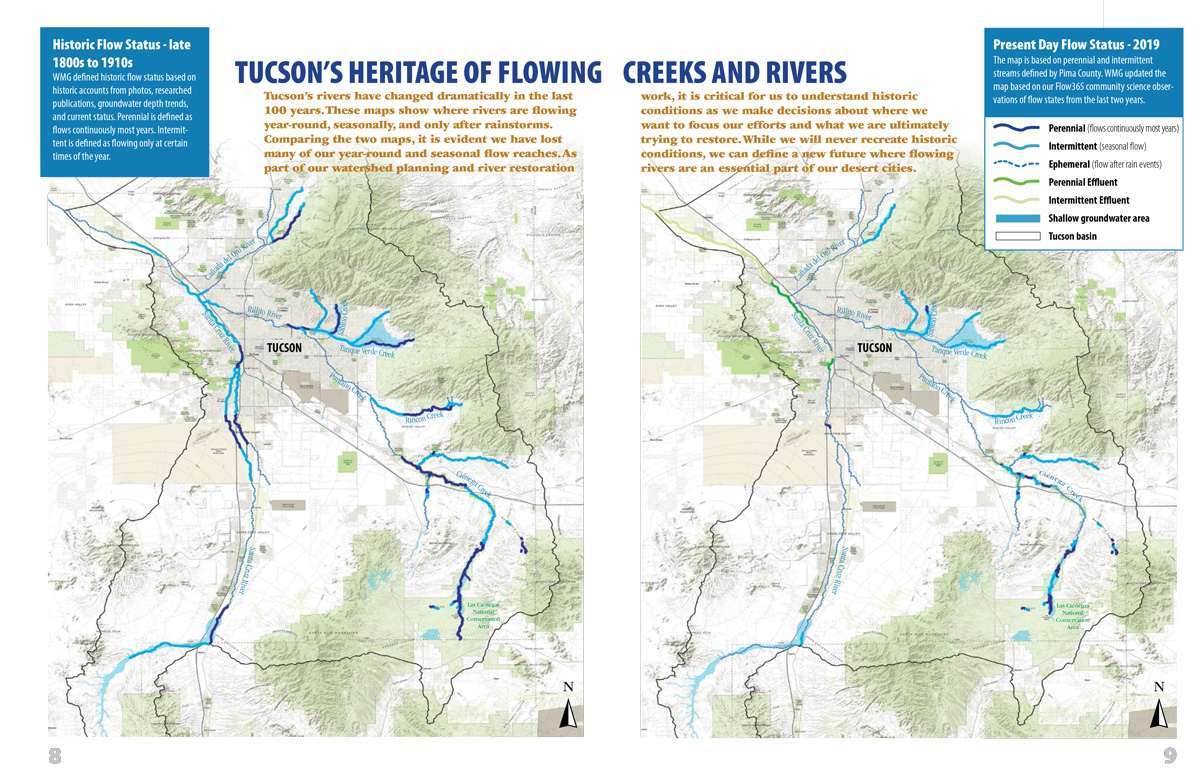 How will my story be shared with our community?
We currently envision holding space for the stories shared with us through WMG's website, print materials, and a public exhibit. The idea of an exhibit is a long-term goal of WMG and would be a physical collection of stories and art about the watershed that would be on rotation in different venues around Tucson. With this being the first project toward this long-term goal, we are coordinating a space for the community to be narrators of their own stories and therefore welcome any ideas about how you would like your story to be shared.
What if I want to share a story but do not want to use the form?
If you are uncomfortable with, unfamiliar with, or not sure how to use the form but would like to share your story, please send an email to rrn@watershedmg.org or call 520-396-3266. In your message, indicate you would like an alternative option to share your story. The alternative options include a phone or video call. If you would like to share your story in Spanish, we can also accommodate this via phone or video call.
Project Information
"Our Memories of Flowing Rivers" began with our intern and University of Arizona graduate student Adrianna Nicolay under the direction of Lisa Shipek and the River Run Network Planning Team. Their intent is to coordinate a space for the community to be storytellers and story recorders and connect to the Santa Cruz River and its tributaries. If you are interested in partnering with us on this work, or have any questions about this project, please reach out to rrn@watershedmg.org.