Join Our Watershed Moment: Green Streets for Everyone!
Please join our Watershed Moment by making a donation to our year-end fundraising campaign. With your help we can raise $30,000 to fund our innovative program work to make green infrastructure a prominent part of our cities to grow our urban forests, calm traffic, and create healthy urban places for people.
The coming year promises to be an exciting one: We're partnering with six cities in the southwestern U.S. on green streets initiatives, ranging from developing standard designs for cities to creating comprehensive green infrastructure-based stormwater management plans. We'll be creating more educational resources for you by developing a green streets maintenance manual and working with partners in La Paz, Mexico to translate our Green Infrastructure for Southwest Neighborhoods manual into Spanish. The ripple effect at work!
With your help we can continue to work with neighborhood groups, businesses, and policy makers to transform our city with green infrastructure.
With your help we can also create a top-notch demonstration of green infrastructure at our new Living Lab and Learning Center in Tucson.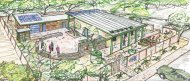 Imagine…
A parking lot with space for cars and bikes that harvests all its runoff to grow shade
A linear park along our street front that harvests stormwater for native foods and fruit trees
An educational center with ample classroom and meeting space for green streets programs and policy work!
Along with our year-end fundraising campaign, our goal is to raise $150,000 for our capital campaign to support the development of the Living Lab and Learning Center. This Center will be a great local, regional, and international resource. Please consider making a gift to our capital campaign in addition to your regular donation. Thanks for joining our Watershed Moment—it wouldn't be possible without you!
Sincerely,

Lisa Shipek
Executive Director
P.S. Make a gift to support our green streets program work today, and please consider a special gift for green infrastructure at the Living Lab and Learning Center. Questions? Call me at 520-396-3266.
School Grant: Water Harvesting and Urban Wildlife Habitat
Business Owners: The Community Coalition Invites You to La Cocina
The Community Water Coalition invites you to a Business Social. Join us Tuesday, December 10, 2013, from 4:00–6:00 p.m. at La Cocina, 201 N Court Ave in Tucson.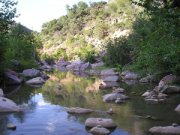 Water connects all life, and water is precious in southern Arizona. The Community Water Coalition brings together diverse groups with a common vision for our region. Our united voice creates a powerful movement working with the City, County, and general public to improve watershed health. Meet the people involved, hear about our work, and learn how you can play a role through our business affiliate program. Light refreshments served, cash bar available.

Please RSVP by Friday, December 6th at the CWC website, or to the CWC Coordinator Karilyn Roach at 520-396-3266 x7 or kroach@watershedmg.org.
*** Watershed Management Group is a founding member and fiscal agent of the Community Water Coalition. ***
Dryland Stream Restoration Training—Early Registration December 6!
Restoration expert Van Clothier and WMG senior program manager Catlow Shipek join forces to offer this 3-day training, January 16–18, 2014, that will blow your socks off! Learn how simple and inexpensive restoring our urban streams, washes, and upland tributaries can be. This course is designed as a technical training for professionals or for backyard resource managers.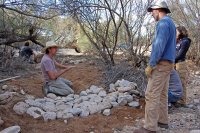 To get the best rates and reserve your spot in the course, register by December 6 by clicking here. For more information on the course, including available professional CEUs, visit our Dryland Stream Restoration Technical Training webpage.
By Popular Demand—the Famous Mesquite Pancake Recipes!
WMG's Fall Newsletter Is Here—Download Yours Today
Because of You... 2012 Annual Report