Calling all Rain Garden Heroes
Show your super support for rain gardens today.
WMG makes it easy for you to be a super hero. The Monsoon Squad is an elite bunch, but you can join them. Here's the 1, 2, 3 punch that gets you on the team:
1) Get Smart with our Field Guide for Rain Garden Care
You'll learn to fly a new course with WMG's new Field Guide for Rain Garden Care. So don't tremble in fear when the storm builds, instead don your new knowledge like a cape and tackle the storm head-on. Wrangle that rain resource to benefit your yard and your neighborhood, or your business.
2) Invest Smart in WMG's Programs
Your donations fund our Monsoon Squad, rain garden workshops, and educational resources. We've raised $16,300 towards our year-end fundraising campaign, and we need your help to reach our goal of $30,000 by December 31st. Seventy donors gave us an amazing boost last week on Giving Tuesday, donating $11,000 in one day!
3) Volunteer Smart
Volunteer your time and talent with WMG to help build and care for rain gardens near you. If we're not in your city (yet), find a local organization that is leading the way with water harvesting and green infrastructure and get involved.
Sincerely,
Lisa Shipek
Executive Director
P.S. We are so excited to offer our Field Guide for Rain Garden Care free on our website. Please share the link with your friends and family. And if you love what we do, make a donation to our Year-end Fundraising campaign today!
Grow Your Skillset in 2015 With These WMG Trainings
Growing Roots With You: 2013 Annual Report
Your Guide to Rain Garden Care is Here!
The newest edition of A Watershed Moment will transform you into a super hero—and transform how your knowledge about how to care for rain gardens! Dive in.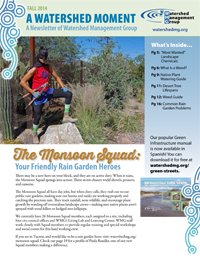 Click here to download our Fall 2014 newsletter, and visit our Co-op Program page to learn how you can transform your own yard with simple and elegant rain garden solutions.
Ahora en Español — Green Infrastructure for Southwestern Neighborhoods