Meet the Women of WMG's new Women and Water Project
C2E Announces 2013 Grant Awards
Your Support Needed: Green Streets Policy for City of Tucson Nearly Complete!
For the past year, Watershed Management Group has been leading a collaborative process between the City of Tucson Department of Transportation and many other stakeholders to develop a Green Streets policy.
The policy would require that stormwater harvesting features (such as vegetated streetside basins) be integrated into publicly-funded roadway development and re-development projects. These features would be included from the beginning of the design process in order to ensure their effectiveness. We already know how to design roadways to promote water conservation and enhance our urban forest. Now, the City of Tucson is taking the necessary steps to integrate this knowledge into new projects to promote a more livable Tucson and a healthy urban watershed.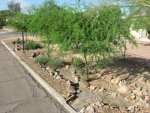 Mayor and Council will consider this policy at a study session on May 29. Please voice your support for this policy by writing or calling Mayor Rothschild and your City Council representative before this meeting! For more information, download the Green Streets policy fact sheet or contact Tory Syracuse at tsyracuse@watershedmg.org or 520-396-3266, ext. 6.
WMG's Earth Day Festival Antics
Thank you to everyone who stopped by our table at the Tucson Earth Day Festival. We had a blast!
If you had your photo taken in our fabulous photo mural (thanks Joe Pagac!), you can look for your photo in our online gallery here, and just right-click to download it. Or check out the album on Facebook!—sharing is simple, and make sure you tag your friends.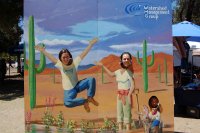 Even Lisa Shipek, our Exective Director, got in on the fun with her sister and adorable nephew!
Our May Co-op Workshop Extravaganza Just Got Bigger—New Opportunities to Join in the Fun!
Free Rainwater Harvesting Rebate Class Scheduled for July