Growing Roots With You: 2013 Annual Report
Make the Most of Giving Tuesday with WMG
You Can Get Rebates on Water Harvesting Systems—Our Free Classes Can Help
Ahora en Español — Green Infrastructure for Southwestern Neighborhoods
Your Guide to Healthy Soils is Here!
Dig in to the newest edition of A Watershed Moment for all you ever wanted to know about how to build healthy soils and reduce your contribution to the waste stream.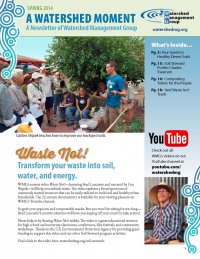 Click here to download our Spring 2014 newsletter, and visit our Soil Stewards page for more great resources and videos.