The Goal: To restore creek flow during the summer monsoon and winter seasons supported by stable groundwater levels. During years of drought, to maintain groundwater levels within 10 feet of the channel bed.
WMG's Work
Reviving our desert waterways requires hard science to understand the dynamics at work in the watershed and chart a course for increasing surface flows. We are creating a flow budget for the Middle Tanque Verde and Agua Caliente Streamshed that analyzes inflow and outflow against a reserve groundwater level, which needs to stay stable to support flow in the creek.
As part of this stewardship plan we are identifying water-harvesting and stream restoration feature opportunities along the Middle Tanque Verde and Agua Caliente creeks to reduce outdoor use of potable water, improve soil health to prevent erosion, and increase infiltration to recharge the shallow groundwater that supports the creek.
Current Trends
The shallow groundwater system supporting seasonal creek flow and riparian trees has declined significantly in the last 15 years. Groundwater levels have dropped over 25ft near the confluence of the Agua Caliente and Tanque Verde creeks. Clusters of cottonwood and ash trees, once present along the banks, have mostly disappeared due to a lowering of the groundwater levels. Mesquite trees have remained along the historic flood terraces where urban encroachment has not removed them. The channel and floodplain access have remained fairly intact with the exception of where bank hardening has been constructed to protect encroaching urban development.  
Streamshed Priority Actions
Download Action Map here: October 2016 (pdf file)
Reduce groundwater demand to help stabilize and restore groundwater levels which have dropped over 25 feet in the last 15 years. 
Enhance floodplain recharge potential along Isabella Lee Natural Preserve to facilitate restoration of groundwater levels in this critical area. Status: Initiated through floodplain recharge restoration project in partnership with Pima County Regional Flood Control District and U.S. Fish and Wildlife Service.
Promote stormwater infiltration throughout Agua Caliente and tributary drainages to slow, spread, and recharge shallow groundwater aquifers. 
Annual Flow Budget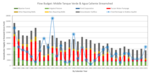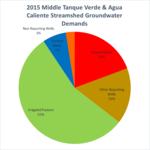 Reviving our desert waterways requires hard science to understand the dynamics at work in the watershed and chart a course for increasing surface flows. We've created a flow budget that analyzes recharge compared to groundwater demands. A positive balance is required to recover and stabilize groundwater levels to support flow in the creek.
Developed by Catlow Shipek, with input from various partners, the Middle Tanque Verde & Agua Caliente Streamshed Flow Budget is in a deficit most years in recent history. 2015 was an exception due to greater storm flow providing more recharge to the groundwater. However, a positive balance can be acheived for most years if groundwater demands reduce by ~20% (513 acre-feet) especially during the warm, dry season of March to July and if stormwater infiltration is enhanced by ~ 20% (1361 acre-feet). Then groundwater levels during dry years can remain stable and during wet years can recover to support intermittant flow in the creek.
The greatest concern in this streamshed is the 15 year trend of declining groundwater levels around the confluence of the Tanque Verde Creek and Agua Caliente Creek at Isabella Lee Nature Preserve due to excessive groundwater pumping by large private wells. WMG and the Pima County Flood Control District, in 2017, will implement a stormwater recharge project within Isabella Lee Nature Preserve that will enhance stormwater recharge (~10 acre-feet per year) to benefit local riparian trees and combat this declining trend in groundwater levels. WMG continues to work with Tanque Verde area partners and residents to regularly update and distribute a collective stewardship plan to reach this goal. 
Learn More
Streamshed Area: 17 sq.miles
Shallow Groundwater Area: 9 sq.miles
Agua Caliente Creek Channel Length: 6 miles
Middle Tanque Verde Creek Channel Length: 5 miles
Restoration Targets
Current Status:

Ephemeral to Intermittant (surface flow < 50% of the year); declining water levels and seasonal groundwater fluctuations > 10ft 
​Flow Target: Intermittant-wet (surface flow 60% to 95% of the year)
Groundwater Target: stabilize water level depths to be within 10ft of channel bed throughout year