The Goal: To restore creek flow during the summer monsoon and winter seasons supported by stable groundwater levels. During years of drought, to maintain groundwater levels within 10 feet of the channel bed.
WMG's Work 
Reviving our desert waterways requires hard science to understand the dynamics at work in the watershed and chart a course for increasing surface flows. We are finalizing a dynamic flow budget that analyzes inflow and outflow against a reserve groundwater level, which needs to stay stable to support flow in the creek. 
As part of this stewardship plan we are identifying water-harvesting and stream restoration feature opportunities along Lower Tanque Verde to reduce outdoor use of potable groundwater, improve soil health to prevent erosion, and increase infiltration to recharge the shallow groundwater that supports the creek. 
Current Trends
The shallow groundwater system supporting seasonal creek flow and riparian trees has been steadily declining over the last 20 years. Groundwater levels downstream of Sabino Canyon Road have dropped critically and continue to lower. Cottonwood and ash trees, once prevelant along the banks, have mostly disappeared due to a lowering of the groundwater levels. Mesquite trees are slowly gaining a foothold along the historic flood terraces. Yet, with continuing declines in groundwater levels the mesquite roots will also be unable to connect to groundwater and grow to riparian bosque potential. In addition, the channel has deeply incised and straightened with concrete bank protection. These channel changes have reduced the ability for the channel to replenish aquifers during flood flows. 
Streamshed Priority Actions
Download Action Map here: October 2016 (pdf file)
​Reduce groundwater demands along the creek to help restore and maintain groundwater levels within 3-10 feet of the channel bed surface during dry periods. 
Stabilize eroding tributary arroyos while promoting stormwater infiltration to enhance groundwater recharge from urban runoff with each storm event.  
Remove invasive, non-native plants along the creek corridor including Giant reed (Arundo donax).
Protect floodplain and tributary floodplains east of Craycroft Rd from being encroached by development. 
Annual Flow Budget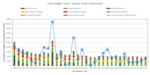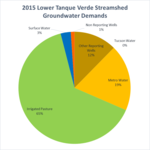 Reviving our desert waterways requires hard science to understand the dynamics at work in the watershed and chart a course for increasing surface flows. We've created a flow budget that analyzes recharge compared to groundwater demands. A positive balance is required to recover and stabilize groundwater levels to support flow in the creek.
Developed by Catlow Shipek, with input from various partners, the Lower Tanque Verde Creek Flow Budget shows a negative balance most years in recent history. However, if groundwater demands reduce by ~20% (501 acre-feet) especially during March to July and stormwater infiltration is enhanced by ~ 10% (333 acre-feet) then groundwater levels during dry years and seasons can recover to support intermittant flow in the creek. WMG continues to work with Tanque Verde area partners and residents to regularly update and distribute a collective stewardship plan to reach this goal. 
Learn More
Streamshed Area: 8 sq.miles
Shallow Groundwater Area: 2 sq.miles
Lower Tanque Verde and Rillito Creek Channel Length: 4 miles
Restoration Targets
Current Status:

Ephemeral to Intermittant (surface flow < 50% of the year); declining water levels and seasonal groundwater fluctuations > 10ft 
​Flow Target: Intermittant-wet (surface flow 60% to 95% of the year)
Groundwater Target: stabilize water level depths to be within 10ft of channel bed throughout year