Event Date:
Sunday, March 8, 2020 (All day)

to

Sunday, March 15, 2020 (All day)
Event Address:
For full course details please visit: watershedmg.org/learn/training/certification 
General Course Schedule
Sunday, March 8, 4pm-6pm
Monday, March 9 - Saturday, March 14, 8am-5pm (slight variations day-to-day)
Sunday, March 15, 10am-4:30pm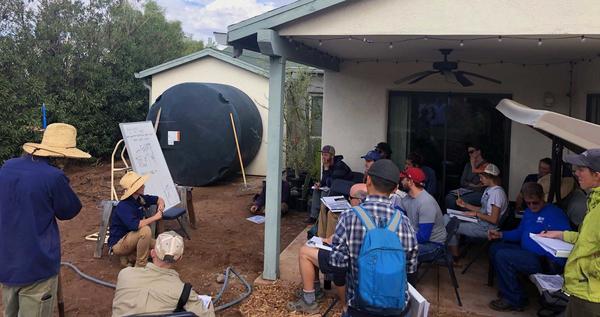 Certification course curriculum
The curriculum provides detailed instruction on water-harvesting systems, planning, design, and installation for retrofitting urban areas. The course includes:
In-depth site assessment and integrated system design of rainwater harvesting earthworks, rain tanks, and greywater features
Hands-on training workshops to install water-harvesting systems at public, residential, or commercial sites
Reading and homework assignments to solidify knowledge gained in hands-on workshops
Final exam to earn certification
The Water Harvesting Design Certification course is designed and administered by WMG staff with assistance from professionals who teach and implement water-harvesting practices. Cost includes lunch and snacks provided each day of the training.