Event Date:
Saturday, February 2, 2019 -

8:00am

to

1:00pm
Event Address:
Near Speedway & Painted Hills Rd.
Come on over to the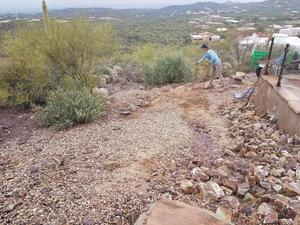 westside (best side?) for a one-day backyard water harvesting makeover. This older home has a great view of
the wild desert and a fairly native landscape already, but the steep slope it sits on means that most of the water is running away from the plants and even causing flooding problems. We'll be slowing, spreading and sinking the rain, as well as replacing some dying trees with beautiful, tougher natives. These earthworks will complete the system began with active tanks already installed on the property! 

Lincoln Perino will lead this work party and teach you all about rocks and guiding water where you want it!