Event Date:
Saturday, March 23, 2019 -

8:00am

to

1:00pm
Event Address: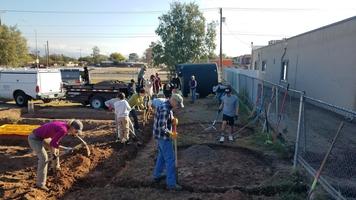 Desert Courtyard Apartments is going all out on behalf of their residents with this super extra extravagant earthworks project and WMG couldn't be more excited to help make it a reality. It all started with the seed of an idea to expand their community garden plots into the massive empty lot next door. Their small existing garden was created with support from Iskashitaa Refugee Network in collaboration with the vibrant refugee community at Desert Courtyard. As interest grew, they started to entertain the idea of expanding the gardens and making a beautiful outdoor living space for ALL their residents to enjoy. The vision has just grown and grown and now the plan is to transform the whole lot into a water harvesting oasis, with lots of trees to sit under, boulders and open space for kids to play in, a community ramada with outdoor cooking spaces, and of course, veggie gardens. WMG helped kick start the transformation with a 9000 gallon capacity tank co-op workshop in December 2018, and we'll be wrapping up the massive earthworks and tree planting parts this March with two back to back co-op workshops. Come ready to get dirty, meet your neighbors (from all over the world), plant plants and have a blast! 
Day 2- Saturday, March 23rd will be all about planting trees and beautifying the landscape. The workshop will be lead by Sonoran Landscape Expert, Emma Stahl-Wert.