Event Date:
Friday, March 31, 2023 -

6:00pm

to

8:00pm
Event Address: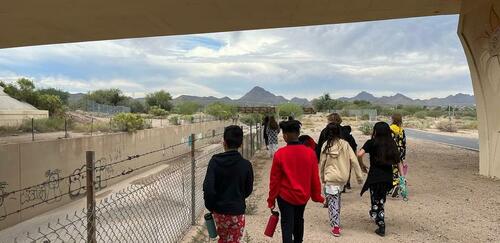 We are excited to announce the release of the bilingual book GUESS THAT ARROYO: TUCSON! Produced by Worker, Inc. in partnership with Watershed Management Group, this book  is a culmination of a series of creek walks and a collection of stories from the community of Tucson and beyond. We want to celebrate the arroyos of Tucson with you, students and teachers from Sky Island High School and Wakefield Middle School, and those who took the time to share their memories of the arroyos for this project. This book includes a series of photographs of 12 arroyos (creeks) in Tucson, creating a fun guessing game that asks the reader to identify them on a map. 
During this celebration, you'll hear from artist and architect Bill Mackey from Worker, Inc., and  special guest, Joaquin Murrieta, Borderlands Restoration Network Conservation Director. They will discuss the creation of the book, and talk about Tucson's creeks, their integral relationship to our urban landscape, and how they connect us all together as a community. We will also play "Guess That Arroyo" with you during this event, with the chance to win a copy of the book.
Funding for this project is made possible through a grant from the Southwestern Foundation for Education and Historical Preservation.
This event is organized through WMG's River Run Network. If you are not yet a member, we will add you to the River Run Network (RRN) when you register for this event. RRN membership is free and gives you access to a variety of virtual, dispersed, and physically distanced events including creek walks, restoration activities, river clean-ups, and free educational workshops.
--------------------------------------------------------------------------------------------------------
Celebración del lanzamiento del libro Guess That Arroyo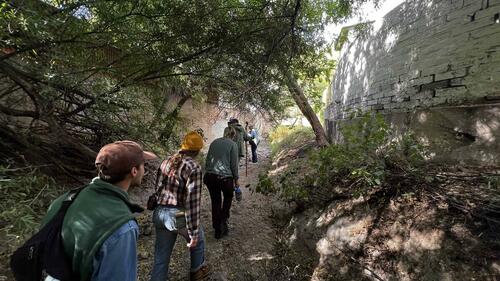 Con mucha alegría anunciamos el lanzamiento del libro bilingüe GUESS THAT ARROYO: TUCSON. Producido por Worker, Inc. en asociación con Watershed Management Group, este libro es la culminación de una serie de paseos por distintos arroyos y una colección de historias de la comunidad de Tucson y más allá. Estamos muy emocionados de celebrar los arroyos de Tucson contigo y con los miembros de La Red del Río (RRN), estudiantes y maestros de Sky Island High School y Wakefield Middle School, y la comunidad en general, quienes se tomaron el tiempo para compartir sus historias en los arroyos. El libro incluye una serie de fotografías de 12 arroyos en Tucson, creando un divertido juego de adivinanzas que le pide al lector que los identifique en un mapa.
Durante esta celebración, escucharemos al artista y arquitecto Bill Mackey de Worker, Inc., y nuestro invitado especial Joaquín Murrieta, Director de Conservación de Borderlands Restoration Network. Nos compartirán sobre la creación del libro y hablarán sobre los arroyos de Tucson, su relación integral con nuestro paisaje urbano y cómo nos conectan a todos como comunidad. También jugaremos contigo "Adivina ese Arroyo" durante este evento, con la oportunidad de ganar una copia del libro.
La financiación de este proyecto es posible gracias a una subvención de la Southwestern Foundation for Education and Historical Preservation.
Este evento está organizado a través de la Red del Río de WMG. Si aún no eres miembro, te agregaremos a la Red del Río (RRN) cuando te registres para este evento. La membresía de RRN es gratuita y brinda acceso a una variedad de eventos virtuales, dispersos y físicamente distanciados, que incluyen caminatas por arroyos, actividades de restauración, limpieza de ríos y talleres educativos gratuitos.