Event Date:
Thursday, February 27, 2020 -

4:30pm

to

7:30pm
Event Address:
WMG Living Lab and Learning Center
1137 N Dodge Blvd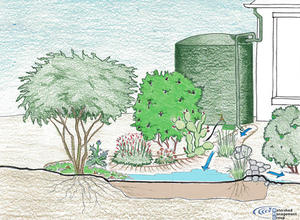 This free Rainwater Harvesting Class will include an introduction to rainwater harvesting, a brief tour of the water harvesting features on our site and information about the Tucson Water Rainwater Harvesting Incentives Rebate Program. Esta clase sin costo de cosecha de agua de lluvia incluye una introducción a la cosecha de agua de lluvia, un  recorrido por las instalaciones de cosecha de agua en nuestras oficinas e información sobre el programa de reembolso para la cosecha de agua de lluvia de Tucson Water.
In addition, we will host two informational sessions from our partners Sonora Environmental Research Institute (SERI) and Tucson Old Pueblo Credit Union (TOPCU) about potential financing options for a water harvesting project in your home. SERI will present about their limited income grant and loan availability and TOPCU will speak about their new green loan for water harvesting projects. Aunado a la clase de reembolso, estarán con nosotros compañeros de SERI y TOPCU para proveer información de becas y préstamos en apoyo al financiamiento de la instalación de cosecha de agua de lluvia en su casa. SERI presenta opciones para familias de recursos limitados y TOPCU compartirá su nuevo "préstamo verde" ambos para la cosecha de agua de lluvia. 
**This class satisfies the Tucson Water Rainwater Rebate educational requirement. Esta clase cumple con el requisito educativo de Tucson Water Rainwater Rebate.
Unfortunately our indoor classroom is not wheelchair accessible, however this class is offered at other locations that offer ADA accessibility. Click here for more information on those offerings. Desafortunadamente, nuestro salón de clases no es accesible para sillas de ruedas, sin embargo, esta clase se ofrece en otros lugares que ofrecen accesibilidad ADA. Haga clic aquí para obtener más información sobre esas clases.