Event Date:
Saturday, October 21, 2023 -

8:00am

to

11:00am
Event Address: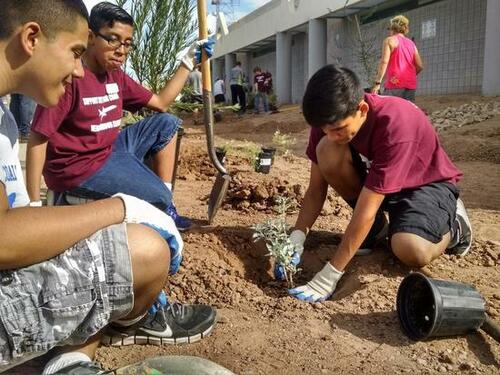 Join us outside to learn how to plant your own rain garden at home on Saturday, October 21 from 8:00am - 11:00am. Rain gardens help capture rainwater, conserve city water used for irrigation, cool down sidewalks, reduce flooding, and provide habitat for bees, birds, and butterflies. After you attend a hands-on workshop, you can take home a complimentary rain garden kit which includes a native shade tree, native grass, shrub, wildflower seeds, and Tank's wood chip mulch. Plus enjoy bilingual story time, meet the hens, learn to code, and make a worry stone or necklace.
Schedule:
8:00am - Nature activities
9:00am - Rain Garden Workshop
10:00am - Song and Story Time
11:00am - Program Ends  
Family Saturdays happen every third Saturday of the month. WMG Youth stay up to date on childrens programming through the Tucson Action Bulletin. 
~español~
Únase a nosotros afuera para aprender a plantar su propio jardín de lluvia en casa el sábado 21 de octubre de 8:00 am a 11:00 am. Los jardines de lluvia ayudan a recolectar agua de lluvia, conservar el agua de la cuidad utilizada para regar las plantas, crean sombra para las banquetas, reducir las iundaciones y crean un habitat para abejas, pajaros y mariposas. Después de asistir un taller práctico, puede llevarse a casa un kit de jardín de lluvia gratuito de incluye un árbol de sombra nativo, un pasto nativo, un arbusto, semillas de flores silvestres y mantillo de Tank's. Además, disfrute la hora del cuento bilingüe, conozca las gallinas, aprenda a codificar, y haga una piedra de preocupación o un collar.
Horario:
8:00am - Actividades en la naturaleza
9:00am - Taller de jardines de lluvia
10:00am - Hora de musica y cuentos
11:00am - Fin del programa 
Sábados familiares se ofrecen cada tercer sábado del mes. Manténgase informado sobre las clases para jóvenes a través del Tucson Action Bulletin.
Thank You To Our Event Sponsors: 
This project is funded in part thanks to Arizona State Forestry and Fire Management, Tank's Green Stuff, and National Fish and Wildlife Foundation. 
Program