Event Date:
Saturday, February 27, 2021 -

9:00am

to

12:00pm
Event Address:
Santa Cruz River & Starr Pass Blvd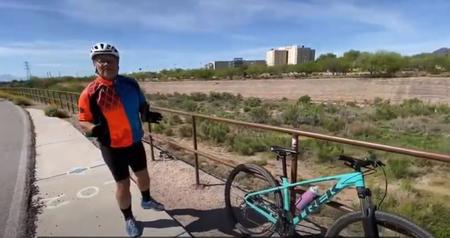 For over a year and half, water has been flowing in the Santa Cruz River through downtown! Cruise on your bike with Joaquin Murrieta, WMG's Cultural Ecologist, to explore the flow from the Santa Cruz River Heritage Project. See first-hand how this missing ingredient is all the river needed to come to life! In addition, see the contrast of where the water is not flowing and the opportunities we have to bring back the flow and the mesquite bosque (forest) along this area south of downtown. We will cover about 6 miles along the loop, riding our bikes at a casual pace, and stop along the way to experience the bounty of opportunities for river restoration and enhanced mobility to connect people, culture and nature. This will be a physically distanced, mask-on event. Please bring your own bike and helmet, as well as water and snacks. This event is limited to 10 people.

This event is organized through WMG's River Run Network. If you are not yet a member, we will add you to the Network when you register for this event. RRN membership is free and gives you access to a variety of virtual, dispersed, and physically distanced events including creek walks, restoration activities, river clean-ups, and educational workshops.
-------------------------------------------------------------------------------------------------------
Rodando por El Santa Cruz: Recorrido en Bicicleta con la Red del Río

¡Por más de un año y medio, el agua ha estado fluyendo por el Río Santa Cruz en el centro de Tucson! Anda en tu bicicleta con Joaquin Murrieta, ecologista cultural de WMG, para explorar el flujo del Proyecto de la Herencia del Río Santa Cruz. ¡Vea de primera mano cómo este ingrediente faltante – agua, es todo lo que el río necesita para cobrar vida! Además, vea el contraste de dónde no fluye el agua y las oportunidades que tenemos para traer de vuelta el flujo y el bosque de mezquite a lo largo de esta área al Sur del centro de la ciudad. Andaremos aproximadamente 6 millas a lo largo del Loop, montaremos nuestras bicicletas a un ritmo tranquilo y nos detendremos en el camino para experimentar la abundancia de oportunidades para la restauración del río y una movilidad mejor para conectar a las personas, la cultura y la naturaleza. Este será un evento guardando su sana distancia y con máscara. Por favor traiga su propia bicicleta y casco, así como agua y alguna botanita. Este evento está limitado a 10 personas.
Este evento está organizado a través de River Run Network - La Red del Río. Si aún no es miembro, lo agregaremos a la Red cuando se registre para este evento. La membresía de RRN es gratuita y le brinda acceso a una variedad de eventos virtuales, dispersos y físicamente distanciados, que incluyen caminatas por el arroyo, actividades de restauración, limpieza de ríos y clases educativas.