Event Date:
Friday, November 29, 2019 -

9:00am

to

3:00pm
Event Address:
Sonoita Mountain View Highway and E Empire Ranch Rd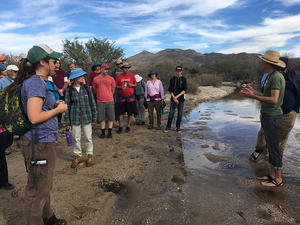 Come out and explore one of our region's hidden gems with Watershed Management Group's River Restoration Biologist Trevor Hare and WMG Founders Lisa and Catlow Shipek. Ciénega Creek is home to Gila topminnows, Chiricahua leopard frogs, gray hawks, coatis, prairie dogs and a whole lot more, and will soon be home to beavers! Bring your binoculars and wading shoes as the hike will be wet and there are birds galore. We will be driving/carpooling to the historic Empire Ranch HQ on Las Cienegas National Conservation Area 40 miles southeast of Tucson, then north on a high-clearance dirt road to one of the proposed beaver re-introduction sites. We will also have lunch under the cottonwoods with water flowing at our feet!
Directions will be emailed to you upon your registration. 
This is an exclusive event for River Run Network members. If you are not yet a member, when you sign up for this creek walk, we will add you to the Network! Learn more about how you can take action at home and in your watershed to recharge groundwater and restore our heritage of flowing creeks and rivers.
Sponsored by: