Event Date:
Saturday, October 17, 2020 -

10:00am

to

2:00pm
Event Address:
Get inspired with our virtual and social distancing tour options to create your own eco-paradise & glean ideas on how to construct your personal sustainable oasis!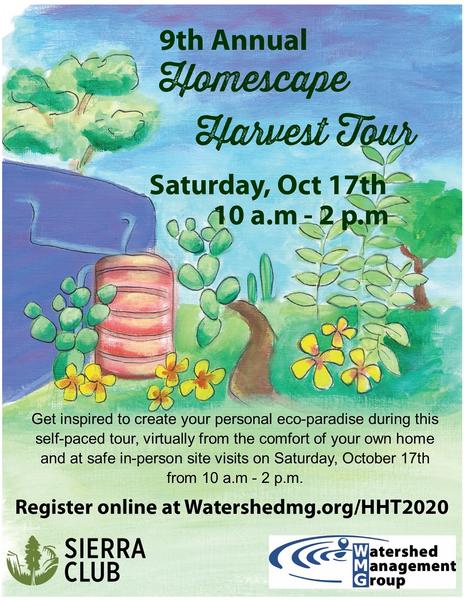 Explore beautiful, well-designed properties that harvest water, solar energy, grow food & create wildlife habitat during our 9th Annual Homescape Harvest Tour! Featuring sites with rain gardens, cisterns, passive and active solar systems, greywater systems, composting toilets, shady oases, lush food gardens, wildlife habitat, and much more, you're sure to start planning your own homescape.
With our PDF program, you'll be able to choose-your-own-adventure and learn all about your favorite features. Sites will be available to visit virtually, and several select residences offering safe, socially distant, in-person tours will be open on Saturday, October 17th from 10 a.m to 2 p.m. We hope you will join us for a panel on Saturday, October 17th at 3:30pm featuring homeowners and industry professionals. It will be presented on YouTube Live, and registrants will be emailed the link in advance.
All in-person sites will have a volunteer stationed at the entrance to the property controlling flow of individuals entering the site and ensuring everyone entering is wearing a mask. The volunteer at the entrance will oversee the flow of people. Each site will have a bottle of hand sanitizer and masks available for use at the entrance.
You will receive the program PDF, links to the home tours, and links to the panel on Thursday, October 15th.
Tickets are $15, children under 16 are free.
Proceeds directly benefit WMG's Green Living Co-op program. Register today!
2020 Homescape Harvest Tour Sponsors
      
Program