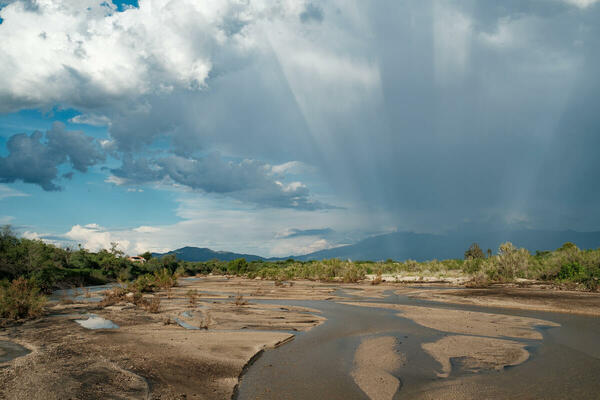 August 1st, 2021
This summer, our Flow365 volunteers captured data showing by far the most river and creek flows we've ever recorded since starting this monitoring effort in 2016. The Rillito River has flowed for 67 days and counting this monsoon season, thanks to strong contributing flows from both the Tanque Verde Creek and the Pantano River! That's a lot more flow than we've ever recorded and a stark contrast to data from July in both 2019 and 2020, when we recorded just one day of flow! 
"Our trained volunteers are documenting our watershed year-round, no matter the weather, to tell the full story of our region's water levels," says Lisa Shipek, Executive Director and Co-Founder of the Watershed Management Group. "Not only is this year's flow data off the charts, but it also indicates a healthy recharging of our groundwater in some areas."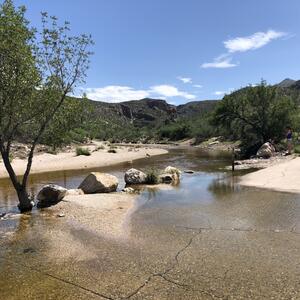 Flow365 monitoring volunteers record flow levels at locations on the Rillito River, Tanque Verde Creek, Cañada del Oro, Pantano River, and the Santa Cruz River, as well as smaller tributaries like Agua Caliente and Sabino Creek. Most monitoring sites are in places where there are not Pima County or U.S. Geological Survey (USGS) flow gauges. Volunteers undergo training and then record data at assigned locations by photographing flow levels and assigning a number from 0–6 — "0" meaning no flow, and "6" meaning flood flow — at each site, along with making qualitative observations. 
Agencies like Pima County Regional Flood Control and the USGS have flow gauges at some strategic points across Tucson in order to alert the public about flooding. Beyond flood levels, Flow365 volunteers also record gentler flows, capture how flow starts and stops at different times of year, and help Watershed Management Group understand where groundwater is recharging.
"There's a misconception that river flow in Pima County automatically means danger and flooding," Shipek continues. "Our watershed has a long legacy of slower, meandering flows, and we can help restore that legacy by continuing to improve our relationship with land and water."  
This year's monitoring shows a resurgence in consistent, slower flows at monitoring sites like the Rillito at Craycroft Road, Tanque Verde Creek at Wentworth Road, and Lower Sabino Creek—an indicator of recharging groundwater levels. Flow365 monitoring has also revealed that a quarter-mile of Lower Sabino Creek has been flowing nearly nonstop since 2016. 
To build on this progress, Watershed Management Group is recruiting members for the River Run Network, a community of active volunteers who are working to conserve water, recharge local groundwater sources, and restore river flow for good. To learn more and join the River Run Network, members of the public can visit watershedmg.org/RRN.
"We know it's hydrologically possible for flowing creeks and rivers to be the norm again in Tucson, as they were until the early-1900's," Shipek says. "But to get there, we need more community members to take action."

Join the movement to restore our creeks and rivers by signing up for the River Run Network here. You'll get access to events, updates, and a network of diverse community members rolling up their sleeves to build a sustainable, secure, and Hydro-Local future from the groundwater up!