We Are One Watershed Dance Rally
Tuesday, April 4
7:00 - 9:30 a.m.
The Playground Bar, Downtown
Watershed Management Group and event sponsor Meow Media are hosting Tucson's first ever morning dance party. Start your day with energy and intention and join the We are One Watershed Dance Rally. At WMG we believe in unity and community and that despite our politics, passions, race, religion, or socio-economic status, we are all part of one watershed. That's why we've launched 2017 Resolutions to rally our diverse community to participate in valuing our water, greening our neighborhoods, and restoration our rivers. We invite you to link arms with us on the dance floor and join the movement.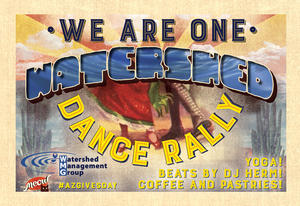 Meet us on the Playground Rooftop for WMG's We Are One Watershed Dance Rally, on Tuesday, April 4 from 7:00 - 9:30 a.m. To get the party started, we'll wake up our muscles with an invigorating 45 minute yoga session. After yoga we'll move right into the dance party, DJed by Herm. For an hour and a half we'll dance our faces off and feel gloriously alive! We'll wrap up by setting our intention and send you off ready to take on the day, and be part of real change in Tucson.
At the event we'll share ways you can get involved with WMG, from water harvesting in your yard, to joining community water coalitions, to advocating for flowing rivers. If you feel moved to give, we'll have a donation booth set up so you can support WMG's work for Arizona Gives Day.
Stay tuned for the full event scheudle, exciting event partners, and other juicy details! Invite your friends on Facebook!
Thanks to our event sponsors!