Our Field Studies classes cover sustainable desert dwelling skills in a fun, engaging, and (mostly) digital environment.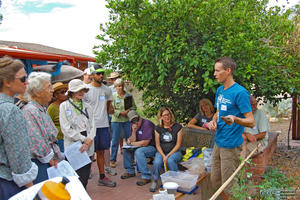 Classes include topics such as composting toilets, laundry-to-landscape greywater systems, native edible landscapes, building healthy desert soils, and rain tank irrigation systems. 
To eliminate access barriers to our educational offerings, we invite everyone to participate regardless of your ability to pay. If you have the means, please consider supporting our educational programming through making a donation so we can continue to reach as many folks as possible.
Upcoming Living Lab Field Studies
Living Lab Field Studies: Composting Toilets (in person at our Living Lab!)
Thursday, October 7th @ 5:30p.m. - 7:00p.m.
Learn all about the humanure composting process, associated benefits and use, toilet design options, maintenance, and permitting for your own composting toilet.
Virtual Field Studies: Rain Tank Irrigation with Gravity-Based Systems
Tuesday, November 9th @ 5:00p.m. - 6:30p.m.
Make the most of your precious water resources! During this virtual class, you will learn the fundamentals of planning and installing simple gravity-based irrigation systems for your rain tank.
Learn more and register online for all the virtual classes on our Field Studies page.
Hope to see you there!