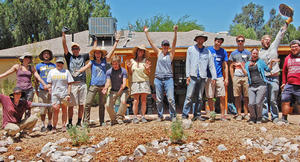 One backyard at a time actually does add up! 
Thanks to our Co-op members and our generous donors, we're celebrating 10 years of water-harvesting work parties and growing roots in the Sonoran Desert through our Green Living Co-op workshops. Over the last decade, we've led 366 Co-op workshops with our amazing volunteers at people's homes in Tucson and the Phoenix Valley. 
Over 10 years, Co-op members helped install:
•    261 rain gardens with 476,838 gallon capacity to harvest rainwater. 
•    92 rain tanks with 143,329 gallons of storage capacity.
•    79 greywater installations resulting in 440,548 gallons of greywater harvested annually.
    
Through all these projects collectively, Co-op members are harvesting over 5.1 million gallons of water annually1! Interested in joining the Co-op and being a part of this water-harvesting revolution? Get all the details here. Interested in contributing to the cause? Donate here! 
1Annual stat is based on the assumption that rain tanks will fill up three times over one year with winter and monsoon rains and that the rain garden earthworks can capture one inch storms, and annual rainfall is nine inches.