Watershed Management Group invites you to a celebration of flowing rivers on September 17
Join us at WMG's Living Lab & Learning Center on Thursday, September 17, 2015, from 5:30 – 7:30 p.m., for Once Upon a Creek: the Sabino Story. You can help write a new story for Sabino Creek—one of abundance and year-round flowing waters. Learn more and RSVP on our event calendar.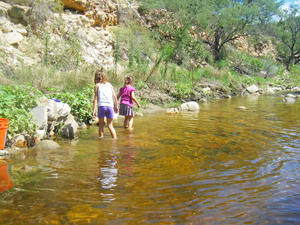 And we know every creek and river has more than one story, so we are asking you to share yours! We want your photos and memories of Sabino Creek. Use the form below to upload pictures and share your story before Sept 10th. We'll print them out to create a beautiful artistic display of Sabino Creek's living waters at our event.
If you do not see the form below upload your photos and story, please click this link.