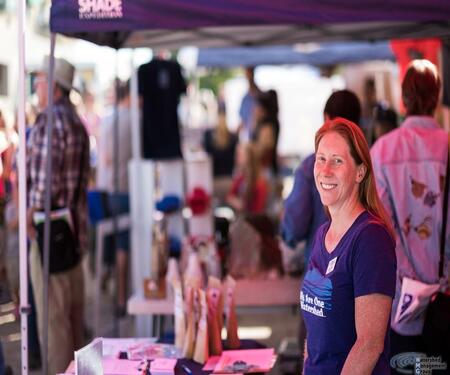 Apply to be a WMG Docent!
Applications close on August 8th, 2021
Learn More & Apply Here

Docents are the face of Watershed Management Group out in the community and at our Living Lab & Learning Center, sharing our mission to develop community-based solutions to ensure the long-term prosperity of people and health of the environment.
----------------------------------------------------------------------------------
¡Estamos buscando un docente voluntario(a)!
La fecha límite es el 8 de agosto de 2021
Aprende más y aplica aqui hoy

Son representantes importantes del Watershed Management Group dentro la comunidad y desde nuestro Living Lab y Centro de Aprendizaje, y participantes integrales en nuestra misión de desarrollar soluciones comunitarias para garantizar la prosperidad a largo plazo de las personas y la salud del medio ambiente.


Hear from some of our current Docents:
Graciela:
Meet Graciela! She is one of our current Docents. Graciela has been a Docent for almost a year, but she has known about WMG since its inception. As a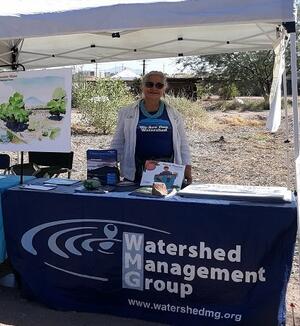 Docent, Graciela helps with outreach events, and interpreting events and translating outreach materials into Spanish.
When asked about the docent program, she had this to say: "I am very inspired by Watershed Management Group and our Mission. The Docents are an incredibly diverse group of people, we all have different backgrounds and we all have a passion for our community and the environment we live in. It has been great to work with and meet everyone in the program and I am so happy to be part of this group."
--------------------------------------------------
¡Conoce a Graciela! Ella ha sido Docente de WMG durante casi un año, pero nos conoce desde nuestro inicio a principios de la década de 2000. Como Docente, Graciela nos ayuda con eventos, divulgación, interpretación, y traducción de materiales al Español.
Cuando se le preguntó qué es lo que más le apasiona, Graciela dijo, "estoy muy inspirada por el Watershed Management Group y nuestra Misión. Los Docentes son un grupo diverso, y todos tenemos diferentes orígenes e intereses. Lo que compartimos es una verdadera pasión por nuestra comunidad y por el entorno en el que vivimos. Ha sido genial trabajar y conocer a todos, y estoy muy feliz de ser parte de este grupo de ciudadanos apasionados y activos".
Sally:
Meet Sally, she is our Tours & Outreach Docent here at WMG. Sally started as a Docent in 2016, inspired by our Co-Op Program, she was excited to help educate the community about WMG and all it has to offer. Right now, she is working with other docents on a Living Lab Tours Project, creating more activities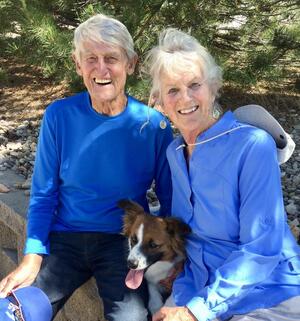 and educational content for visitors who come in to learn.When asked what she enjoys about being a docent, she says she loves "teaching people and encouraging them to take the knowledge they learn and apply it to their own lives. I am inspired by the Mission of Watershed Management Group and I am excited to be a part of it."
--------------------------------------------------
¡Conoce a Sally! Sally es la Docente principal que da tours y atiende las personas diversas que visitan el Living Lab y Centro de Aprendizaje del WMG. Sally comparta generosamente su amplio conocimiento sobre todo lo que hacemos. Ella comenzó como Docente en 2016, inspirada por haber participado en nuestra Cooperativa, y sigue emocionada de poder educar a su comunidad sobre la misión de WMG y todo lo que tenemos para ofrecer. En este momento, Sally está trabajando con otros docentes creando más actividades divertidas y contenido educativo para nuestros visitantes.

Cuando se le pregunto a Sally qué le gusta de ser docente, dijo, "me encanta enseñar y animar a las personas que pueden tomar los conocimientos que aprenden aqui y aplicarlos a sus propias vidas. La misión del WMG me inspira y estoy emocionada de ser parte de él".
Dan:
Dan leads our Monitoring Team here at WMG. The monitoring team takes measurements and notes of our Living Lab systems, creating data about how Rainwater Harvesting, Food Forestry, and other elements at the Learning Center are changing and what impact they have on the system as a whole. As a WMG Docent, Dan also teaches our Rebate Classes, helping people to understand the Rainwater and Greywater Harvesting concepts and how to implement them in their own yards.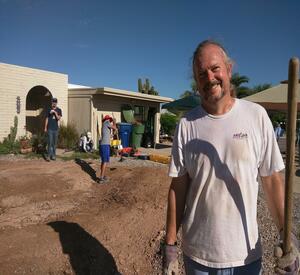 When asked what Dan likes most about his Docent position, he says that he really enjoys the impact everything he has learned as a Docent has had on his outside life. Dan became interested in WMG through the Co-Op program, working on Rainwater Harvesting projects around Tucson. Then, he joined the 2016 Docent Cohort in hopes of learning more and applying it to his life. He has since used his knowledge in his own yard, around WMG's Living Lab and Learning Center, and he helps to spread WMG's mission around the Tucson Community through advocacy opportunities he is presented with.
--------------------------------------------------
¡Conoce a Dan! Él lidera nuestro Equipo de Monitoreo aquí en WMG, colectando datos importantes sobre los cambio e impactos que hay en lo que es la recolección de agua de lluvia, la silvicultura de alimentos, y varios otros proyectos que estudiamos en nuestro Living Lab, individualmente y como procesos interactivos. Como docente del WMG, Dan también da clases sobre el reembolso municipal que se ofrece por recolectar lluvia. Con el trabajo de Dan, más personas están llegando a comprender los beneficios que puede traer la recolección de lluvia y aguas grises, no solo por sus jardines y patios, pero por sus carteras también.
Cuando se le pregunto a Dan qué es lo que más le gusta de ser Docente, me contó que, "realmente disfruta de ver el impacto actual que ha logrado ver, no solo en el Living Lab pero por toda la comunidad." Dan primero se interesó en WMG a través de nuestra Cooperativa, adonde empezó trabajando en proyectos de recolección de agua con otras personas de Tucson. Se hizo Docent en 2016 con la esperanza de aprender más y aplicar este conocimiento en su propio jardín, ademas de en el Living Lab - y lo logro. Agradecemos mucho a Dan por ayudarnos a difundir la misión de WMG siempre que una oportunidad se le presenta.

Marlene:
Marlene has been a Docent here at WMG for 2 years. She found WMG from a tour she attended, and became fascinated by the Living Lab and Learning Center. As a Docent, Marlene is involved in data collection around the Living Lab and in her local streamshed. She also helps moderate our virtual classes and is our Lead Docent in helping with the new Family Saturdays. When asked about what she is most passionate about, she had this to say: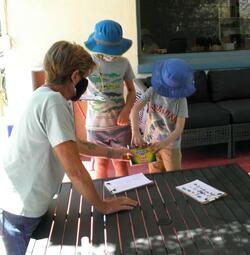 "WMG always has something new going on for me to be involved in. Right now, I am most passionate about Family Saturdays. These Saturdays are a chance to interact with families and introduce them to the Living Lab. Helping them to understand how to conserve water, which is even more important now that we are in this severe drought. Any chance to introduce anyone to water saving principles will help to save our precious and disappearing water supply."
--------------------------------------------------
¡Conoce a Marlene! Ella ha sido Docente de WMG durante los últimos 2 años. Nos encontró por un tour que asistió y quedó fascinada con nuestro Living Lab y Learning Center. Como Docente, Marlene participa en la recopilación de datos en el Living Lab tanto como en las areas naturales de sus cuencas locales. Marlene también nos ayuda a moderar nuestras clases virtuales, y es nuestra Docente Principal en ayudar con los nuevos Sábados Familiares. Cuando se le preguntó qué es lo que más le apasiona, dijo:"WMG siempre tiene algo nuevo en lo que me puede involucrar. Por el momento, lo que más me divierte es apoyar los Sábados Familiares, los cuales me dan una oportunidad para interactuar con familias locales y presentarles todo lo hay que ver en el Living Lab. Pienso que hacer entender a jóvenes y sus papas cómo mejor usar y conservar el agua es aún más importante que nunca, ya que estamos viviendo una severa sequía de largo plazo. Cualquier oportunidad de presentarle a alguien los principios del ahorro y cuido del agua ayudará a las personas, animales y plantas que dependen de ella."