This spring, WMG is bringing you two trainings in Phoenix and Tucson to help you green your career and gain valuable skills you can use to improve and restore your community.
Green Infrastructure Technical Training in Phoenix
Green infrastructure helps create greener, more vibrant cities by capturing rainwater and stormwater at the source and using it to nourish desert shade trees and supporting vegetation. By combining curb cuts and curb cores with bioretention basins and water-harvesting swales and berms, we can restore our urban areas and add more plants while conserving our precious desert water supply.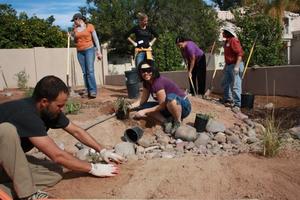 Other benefits include:
Mitigate flooding and erosion
Cool and shade streets to reduce urban heat island effect (UHI)
Restore soils and wildlife habitat to attract pollinators
Increase curb appeal and neighborhood livability
To see examples of green infrastructure in the Phoenix metropolitan area, visit one of our public demonstration sites at Primera Iglesia United Methodist Church, the Phoenix Zoo, Mesa Urban Garden, or Glendale Public Library. Fun fact: our established Primera Iglesia site thrives on just our annual 8" of rainfall—no supplemental irrigation required!
On March 17 and 18, WMG's Water Resources Engineer Kieran Sikdar and Phoenix Program Manager Ryan Wood are teaming up to bring you a 2-day intensive training on green infrastructure techniques. Held at the Maricopa County Flood Control District office, you will gain both classroom and hands-on experience in designing and building green infrastructure features. This course provides 12 units of CECs for CFMs and 7 CEUs for ISA Certified Arborist, Tree Worker, Municipal Specialist, and Board Master Arborists. Learn more and register online for this training.
Funds to support this project were provided by Arizona State Forestry's Urban and Community Forestry Program and the USDA Forest Service.

Arroyo Restoration and Erosion Control Training in Tucson
Our newest offering, this training will show you how to read the landscape from a water flow perspective and begin to identify a variety of techniques for altering existing infrastructure to restore natural processes. This course includes hands-on implementation of small-scale restoration features, with an emphasis on arroyo (gully) restoration and upland landscape erosion practices.
WMG's River Restoration biologist Trevor Hare will lead this two-day workshop on March 4 and 5. Learn more and register online for this training.