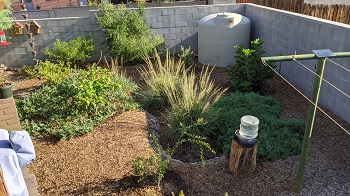 The Desert Home Living Tour—formerly known as the Homescape Harvest Tour—is a celebration of living in cooperation with the desert. Homes featured on this tour have found creative ways to harvest rainwater and solar energy to bring life and energy to their home and landscape. On this in-person and virtual tour will see sustainable practices of all shapes and sizes including - rain tanks, polinator friendly landscapes, native edible landscapes, irrigating with greywater, active and passive solar home design, composting toilets, vegetable gardening, chickens, and more.
This tour features homes in both Tucson and the Valley!
We're excited to celebrate sustainable forms of transportation on the in-person tour in Tucson with featured bike routes and bus routes (remember, SunTran is currently free!) and an awesome bike tour led by BICAS!
Leave inspired to reduce your energy and water use at home to live a more hydro-local life all while boosting your beneficial ecological impact!
Event Details and Registration
Tickets for the tour are $15, with a sliding scale available for limited-income community members. You can also choose to join this year's tour in person or virtually. Regardless of your experience level or budget, this tour will show design features that are accessible to you!
Please contact WMG's Project Manager and Educator Charlie Alcorn at calcorn@watershedmg.org if you can't afford a full-price ticket but would like to attend the tour.