Event Date:
Saturday, October 19, 2019 -

10:00am

to

3:00pm
Event Address:
Start at WMG! 1137 N Dodge Blvd
And various locations around Tucson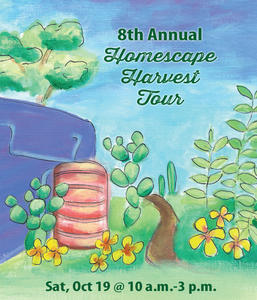 Get inspired to create your own eco-paradise! Explore beautiful, well-designed properties that harvest water, solar energy, grow food & create wildlife habitat during our 8th Annual Homescape Harvest Tour.
The tour features rain gardens, cisterns, passive & active solar systems, greywater systems, composting toilets, shady oases, lush food gardens, wildlife habitat, and much more. These sustainable living practices range in size and cost, and many sites feature repurposed and recycled materials. You'll discover how private homeowners and public schools sculpt their landscapes to maximize the rain and harvest solar energy to support vegetation and urban wildlife.
As we confirm the sites, we will update this page to let you know what areas of town you'll be exploring. A program with detailed information about the tour sites and their locations will be available at the Living Lab on Sat, Oct 19 starting at 9:30 a.m. Come to our Living Lab & Learning Center first to check out everything WMG is doing to harvest rainwater, greywater, and solar energy to create a desert oasis! We will also provide a link to the program PDF for event attendees, once it is available.
Tickets are $15, children under 16 are free. Proceeds directly benefit WMG's Green Living Co-op program. Register today! 
 
2019 Homescape Harvest Tour Sponsors