Water Harvesting Certification
The WMG Water Harvesting Certification program is a hands-on training course that provides certification in water harvesting system design and implementation. Our program provides the highest quality and greatest depth of training in integrative water harvesting offered in the nation.
The course teaches site assessment, design, and installation of:
Greywater systems

Rainwater harvesting landscapes

Roof-top rainwater catchment - cisterns
Upcoming Course Schedule
Fall 2013 - Summer 2014 course schedule to be announced soon.
For more information about the Certification program, please click on the submenu on the left navigation bar or email tech-trainings@watershedmg.org or 520.396.3266.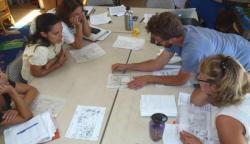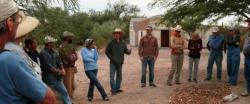 Watershed Technical Trainings
WMG's Watershed Technical Trainings (WTT) are hands-on design and implementation trainings to build the knowledge and skills of property-owners and practitioners alike. As a non-profit organization, WMG's goal is to offer green job trainings based in collaboration not competition; build applied skills of professionals; and teach universal principles and systems instead of product promotion. Our courses bring together a wide variety of people, such as architects, engineers, resource managers, consultants, educators, policy makers, community activists, and property owners.
Fall 2013-Summer 2014 course schedule to be announced soon.
Other courses we can offer based on demand or interest follows. Please contact us to learn more.
Costs vary by training with discounts offered for early registration and alumni of WMG's Water Harvesting Certification or other Technical Trainings.
The cost incl
udes gourmet snacks and lunch made with locally sourced produce. A certificate of completion for full course attendance can be provided by request.
For more information, email tech-trainings@watershedmg.org or call 520.396.3266. More information for each individual course can be found by clicking on the course title above.