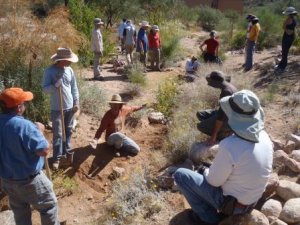 Next Training: To Be Determined.
This training is a part of WMG's Watershed Technical Trainings (WTT) program, which provides advanced trainings in green infrastructure, water harvesting, eco-sanitation, and watershed restoration. WMG's goal is to transfer this advanced technical knowledge to residents, professionals, educators, and community activists who will integrate these practices into their work and teach others.
Continuing Education Options:
Certified Floodplain Managers can receive 6 core CECs for day 1 and 4 core CECs for the ½ day bonus. Total for both = 10 core CECs.

Arizona Chapter of American Society of Landscape Architects (AzASLA) members can receive CEUs.
Course Description. Through WMG's 1-day training in Urban Dryland Stream Restoration, participants will gain a basic understanding of how to read and assess landscape forms and processes, design of small-scale restoration features, and hands-on implementation of those features. Emphasis will also be placed on urban wash restoration approaches and practices from backyard to larger drainage scales.
A bonus 1/2 day workshop will be available to course participants (no additional charge) on Saturday, January 19th, 8am-1pm to complete additional features at the course site under course instructor Van Clothier. This will be a great chance to learn about additional features and put your newly learned skills to work, hands-on.
Participants will learn how to read the urban landscape from a water flow perspective, and learn how to see the many possibilities for altering existing infrastructure for restoring natural processes. In the human environment, increased impervious surfaces, such as roofs and streets increase surface runoff in proportion to the number of houses and roads in the community. By paying attention to site details, natural processes and water harvesting principles, we can restore balance to our urbanized streams, creating multiple benefits for people and the environment. Learn how streams function, and how cities can cheaply and easily reconfigure water flow paths, turning niuisance stormwater runoff into an abundant resource.
This training is open to all residents, professionals, educators, and activists from a wide variety of backgrounds.
This course will include a balance of: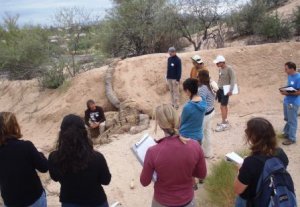 Site assessment, design, and planning sessions

Hands-on restoration workshop
Curriculum Details:
Introduction to Stream and Wash Restoration
Urbanization & Benefits of Urban Water Harvesting

Stream Restoration in Urban Settings

Restoration Techniques & Features
​Application and Implementation
Project Design & Layout

Reading the Landscape On-Site

Hands-on Restoration Workshops, including:

Assessment of recent history of a watercourse

Identification of problems and solutions

Construction of watershed restoration earthworks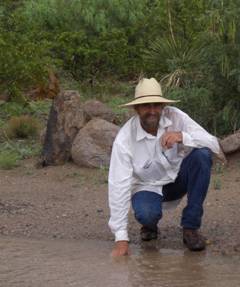 Course Instructor. Van Clothier has been restoring the waters in Arizona and New Mexico for 10 years. His firm, Stream Dynamics, Inc., specializes in turning runoff and erosion problems into water harvesting opportunities with water harvesting earth works, urban stormwater retrofits, and riparian and wetland restoration in both urban and wildland settings. Van has worked on a variety of water resources projects with regional stream restoration and water harvesting experts including Bill Zeedyk and Brad Lancaster. He has a degree in physics, and has completed the River Restoration and Natural Channel Design stream restoration course schedule taught by Dr. Dave Rosgen. He is the co-author with Bill Zeedyk of a book called Let the Water Do the Work: Induced Meandering, an Evolving Method for Restoring Incised Channels, which will serve as an optional textbook for this class.
Registration. R
egistration discounts are available to 1. alumni of the WMG's Water Harvesting Certification or other Technical Trainings, 2. AzASLA members, and 3. CFMs
.
The cost includes snacks and a gourmet lunch made with locally sourced produce.
Contact. If you have questions about our Dryland Stream Restoration courses or our other Watershed Technical Trainings, please email tech-trainings@watershedmg.org or 520.396.3266.
Sponsor. Arizona Chapter of American Society of Landscape Architects (AzASLA) is a sponsor of this course.