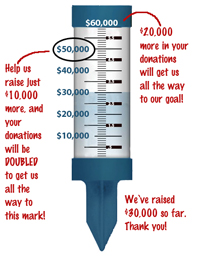 Around here, we really like geeking out over our rain gauges, so we've created one to track the progress of our summer fundraising campaign. With just one day left until our July 20 deadline, we still have a long way to go to meet our goal But the great news is that thanks to a generous donor, we're able to offer a challenge match that doubles every donation that comes in this week -- making the water level in our gauge rise twice as fast!
Another $9,000 from our donors in these final days of the campaign will get us all the way to $50,000. And $19,000 will get us all the way to our goal. If you haven't given yet, please send in your summer mailing form or give securely online today. Your gift of any amount makes a big difference.
For a closer look at our current gauge reading, click here.