By Catlow Shipek
I am assisting the University of Arizona Student Chapter of Engineers Without Borders (EWB-UA) with a community-based project in Mandoli, Mali. Myself and another EWB-UA student recently completed a community assessment trip in early June. Mandoli is a small agriculture-based community located along the remote Bandiagara Escarpment in Mali, or 'Dogon Country' as western tourists know it. Mali straddles the transition known as the Sahel that is between the arid Saharan desert to the north and more humid climates to the south. Mali is a diverse country consisting of dozens of ethnicities, rich in culture and tradition, and providing many world-renowned musical artists including the late Ali Farke Toure.
Community members predominantly speak a dialect of Dogon, a handful also speak the regional language Bambara, and only a couple know some French. The community has requested assistance to improve their dire water supply issues which are most evident these final months of the 9-month dry season. During our visit in June, the water supply was at its lowest with the rains still a month away. Men, women, and children all work together to supply enough water to their families and herding animals. This region typically receives on average 500mm (20inches) of rain from June to September. The communities food resources for the year rely on a productive harvest from this short intensive growing season utilizing every square meter of soil available.
Past aid projects have installed a number of open wells drilled deep into the sandstone bedrock. Growing and shifting populations strain the existing water supply during the dry season when demand exceeds the recharge rate. Several villages within the community travel up to 3km twice a day to obtain water for all their household and livestock needs. Other issues are realized upon inspection. Sanitation being one, only two toilets exist in the community, a pit latrine at the Peace Corps Volunteer's house, and another pit latrine at the new primary school. Another issue being education, education is a convenience that few families can afford to have their children attend.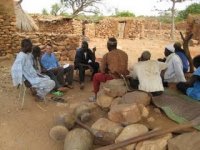 We conducted a rapid community assessment looking at water usage, water quality, sanitation, health, income, family characteristics, community structures, community organizations, and more. The information we collected will be presented to the larger EWB-UA team back in Tucson. From this information we will work together with the community of Mandoli to develop a strategic plan to help them resolve their water supply issues. One alternative may be to utilize rooftop rainwater harvesting practices. Some members of the community already informally practice rooftop catchment using buckets to collect runoff from their mud roofs. However, this water is of poor quality due to the mud surfaces and collection is limited to the size of a bucket. The villagers simply state that the lack of tools and resources prohibit them from better utilizing this water source.
The development of a catchment and storage system applicable to this region presents several challenges. First, long-term storage requires careful protection and management of the collected rainwater. Second, the cost of the materials must be affordable to a community consisting primarily of subsistence farmers with limited monetary income. Our efforts to help the community of Mandoli will take a multi-pronged approach:
develop and deliver educational resources focusing on issues of water, sanitation, and health specific to the community
improve the quality of existing water sources for drinking purposes and
develop sustainable alternatives to increasing water supply.
The EWB-UA team is quickly moving forward with planning and technical development and of course fundraising. Financial donations assist the all volunteer team in reaching out to a community to ensure everyone has a right to safe, clean drinking water.