Karilyn Roach


---

Program Coordinator
Pilot Programs Turn Participants into Community Innovators
Changing people's perceptions, behaviors and attitudes can be daunting, so sometimes starting small and developing models to build upon is the best strategy. Watershed Management Group has taken this approach with our recent work through two innovative watershed conservation programs: our Soil Stewards Composting Toilet Pilot Project and the Tucson Conserve to Enhance Program. Most importantly, both pilot programs hit the ground running with working models that engage community members in real conservation projects in their own backyards. In this way, participants help build the model by taking meaningful actions — building a strong foundation for broader change in Tucson and beyond.
Soil Stewards Composting Toilet Project
Watershed Management Group's truly groundbreaking Soil Stewards Composting Toilet Pilot Project seeks to change attitudes toward waste and water conservation among residents, city staff, and policymakers.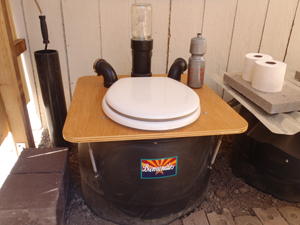 One Soil Stewards participant
's permitted pilot composting toilet installed at
home
—
built
through WMG workshops with locally available materials.
About 30 percent of drinking water consumed within a typical U.S. household is literally flushed down the toilet, turning a precious resource into a waste product. Yet citizens looking to implement a solution to this wasteful problem are up against a number of legal roadblocks. U.S. law requires the use of drinking water, rather than harvested water, in toilets. At the same time, most state laws will only approve and permit one type of water-saving composting toilet — one that must be purchased prefabricated and costs upward of $2,000.
To make the composting toilet solution an alternative that's more accessible to homeowners, WMG engaged with a diverse committee of stakeholders, including the Arizona Department of Environmental Quality (ADEQ), to obtain experimental permits to build, use, and test four types of site-built composting toilets. In contrast with currently permissible systems, the toilets are all made from locally-available materials, with costs to build and install them starting at about $350.
This spring, we held workshops to train local residents on how to build, use, maintain, and monitor the composting toilets permitted through the Soil Stewards program.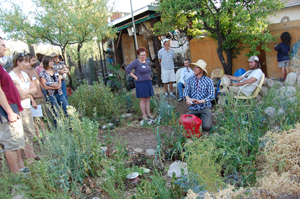 WMG instructor Brad Lancaster hosts a Soil Stewards workshop (with co-instructor David Omick), exploring soil-nurturing subjects from composting toilets to mulching with onsite materials.
Moving forward, anthropologists will monitor the effectiveness of the education and toilet design, along with user acceptance and behavior. Following a year of monitoring, the designs will be modified if needed and submitted to ADEQ as composting toilet reference designs.
"When the opportunity came up to participate in this pilot program my wife and I were excited to take part," said Soil Stewards pilot participant Charles Swanson. "Composting human waste is a fantastically low-tech solution that saves a lot of water, keeps a valuable resource from being processed by an unsustainable 'waste treatment' facility, and re-vitalizes the soil. It's an obvious boon to us, but hopefully, for others, this program will help to shed light on new ways to use our resources more conscientiously."
By supplying standard designs and making more affordable, locally sourced toilets available, we're seeking statewide change that enables anyone in Arizona to install and use a site-built composting toilet as an alternative to a flush toilet — expanding awareness about water conservation and healthy soil fertility in the process.
Tucson Conserve to Enhance
This spring also marked the first anniversary of another important pilot program: the Tucson Conserve to Enhance Program (C2E). Participants in the C2E program conserve water, track savings on their water bills, and donate those savings to a local riparian restoration project. The program is a collaborative effort run and developed by the Sonoran Institute, the University of Arizona Water Resources Research Center, and Watershed Management Group.
In its first year, the 56 pilot C2E participants saved a cumulative 504,000 gallons of water. Combined with funds from the open-space/riparian-conservation checkbox on Tucson Water's bill, C2E contributions will first be put to use later this year, funding a restoration project at Atturbury Wash southeast of Tucson.
"It's encouraging to be a part of the program with people making fellow water conservation efforts," said Mead Mier, an enthusiastic pilot participant.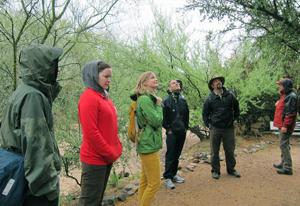 Tucson naturalist Eric Dhruv leads a lovely rainy-April-morning fieldtrip to Atturbury Wash, where C2E funds will help restore riparian habitat.
"It has also been insightful to see the calculations that C2E provides on my water usage over time," Mier said. "As a result, I not only donate the cost of my conserved water, but when my water use was higher than my past average, I imposed a 'tax' on myself equal to my over-usage. So for me, the C2E program has worked as a motivation to donate more for restoration."
This gets to the core of what C2E is trying accomplish: raising awareness of personal water consumption patterns and the impact each individual can have on the local environment. As C2E moves forward, the education and outreach associated with the program will be a vital focus not just for water conservation awareness, but also establishing personal links to our local riparian environments.
C2E goes beyond drawing these connections just for participants. Through partnership with Tucson Water, the local water utility, WMG and our C2E partners have successfully forged a collaboration that will allow future expansion of this program. Working together to fund Atturbury Wash restoration will establish important precedent for accessing checkbox funds and easing approval of future C2E-sponsored restoration projects. It is through close ties with municipal departments that successful pilot programs make strides toward changing the institutional attitudes about ways to achieve conservation goals.
With its pilot year coming to a successful close, C2E is preparing to scale up the program and offer water-conservation monitoring and education to more participants, with the goal of eventually including all Tucson Water customers. •